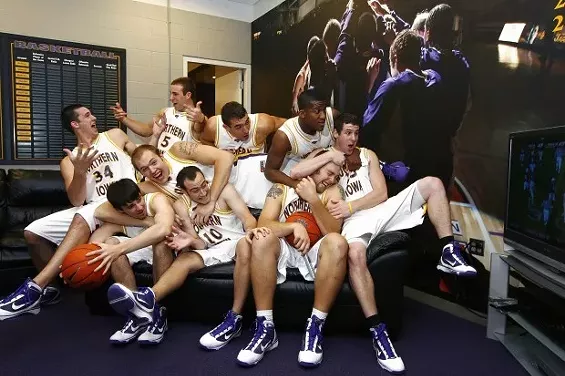 Downtown is crawling with college hoops fans right now. Walking down Washington Avenue last night, especially in the areas around the Ed Jones Dome, was like being at four different pep rallies at once.
Drunken
Michigan State
fans shouted 'Go Green!' at passers-by, a horde of orange-clad
Tennessee
alumni commandeered
the Over/Under
(the outstanding smoke-free sports bar on the corner of Tenth and Washington) for a fundraiser and
Ohio State
supporters popped their Evan Turner jerseys every chance they had.
But by far the most popular colors in St. Louis are Northern Iowa purple and gold. Not only is UNI the closest school geographically to St. Louis in the Midwest regional (they were here just a few weeks ago for "Arch Madness" the
Missouri Valley Conference
tournament), everybody in America,
including President Obama
, loves (or loves to hate) them for shocking Kansas and being
the
Cinderella in a tournament full of fairy tale upsets.
Admit it, unless you're still in contention in your office pool or a Spartan fan you're pulling for the Panthers this weekend. Here's a cheat-sheet for faking season-long fandom. Maybe it will earn you a free beer from an elated UNI fan after they pull another pair of upsets:
Fear the Burns:
This is the Northern Iowa battle cry inspired by the facial hair of Lucas O'Rear. Some say his mutton chops make the scrappy forward resemble
Hugh Jackman as Wolverine
. Kansas fans say it makes him look like a sleazy '70s pornstar (and with his
prank-call worthy name
and shamrock shoulder tattoo, it's hard to argue.) Either way he's beloved by Panthers fans, who've taken to drawing fake sideburns on their faces in his honor. The burns even have their own
Facebook profile
.
Ali
Boombaye
: Ali Farokhmanesh was the hero against the Jayhawks, draining an extremely ballsy three-pointer with 30 seconds left on the shot-clock to put UNI up by four and Kansas down for the count. Things to know: His father represented Iran in the 1980 Olympics as a volleyball player, his last name is pronounced "
f
uh-ROKE-muh-nesh
," and his nickname is Stroke.
UNI's former coach Jim Berry
The old guy on the bench:
You're sitting in a bar watching tonight's game. The camera pans to the Panther bench. Someone says 'Jesus, who's that geezer at the end of the bench? He has to be somebody's grandfather.' You reply knowingly: "Nope, it's
Jim Berry
. He was the head coach at UNI from '73 to '86."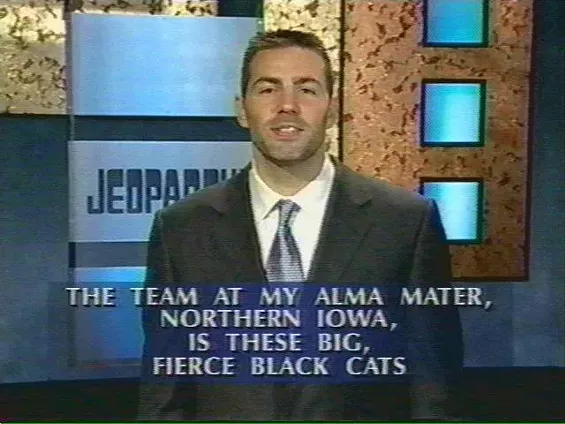 Kurt was a proud Panther on Jeopardy
It's Academic:
For a small public school, UNI is highly regarded academically. They're known for their accounting program -- one of the best in the nation. They're also famous a longstanding
campus tradition
of kissing under the clocktower at midnight during homecoming. The most notable alumnus? For St. Louisans no one tops Kurt Warner.