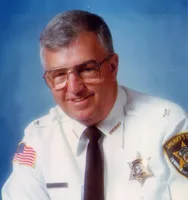 James Murphy: He' s healthy (191 accrued sick days). His record-keeping? Not so much.
An audit of the St. Louis Sheriff Department found a lengthy list of accounting deficiencies, including the discovery that several workers get full-time salaries for part-time work.
The audit (
viewable here
) by State Auditor
Susan Montee
uncovered that a half dozen of the department's 17 outside service deputies (ie. process servers) work less than 30 hours a week (including the five hours a week they're paid to eat lunch), yet are paid as if they work 40 hours a week.
Meanwhile, the department seems to have no record-keeping system in place for monitoring Sheriff
James Murphy
's leave accruals. To date the sheriff has 191 accumulated days of sick leave, some of which could be cashed out when he retires for an immediate payment of over $11,000.
Wrote auditors:
To ensure leave accruals are accurate and prevent the appearance of excess benefits to the elected official, the Sheriff should establish a written policy regarding his leave accrual and payment of accumulated leave upon termination or retirement. In addition, the Sheriff should track all sick leave used to ensure his sick leave balance is recorded accurately.

The audit also found problems with the way the sheriff's department manages court evidence and property seized by the court. Many items were mislabeled and regular inventories were not conducted to determine what property was no longer needed.
The sheriff's department is also in charge of land tax sales when the city sells properties for back taxes. The audit cited accounting deficiencies in how money from those sales is recorded.