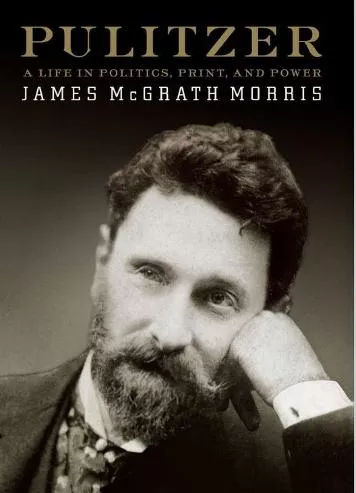 Author
James McGrath Morris
is out with the most comprehensive biography to date on St. Louis
Post-Dispatch
founder and America's first media baron,
Joseph Pulitzer
.
Pulitzer: A Life in Politics, Print and Power
recalls chronicles the Hungarian immigrant's arrival to America his formative years engaging in media and state politics in St. Louis and his move to New York to build the largest circulation paper of its day,
The World
.
Morris is in town tomorrow night at Left Bank Books and Wednesday evening at the Missouri Historical Society to read from his book. (Details on the readings
here
and
here
.)
Last week
Daily RFT
caught up with Morris by phone to discuss our thoughts and reactions to a book that should be required reading for anyone
foolish
tenacious enough to take up a career in journalism.
Daily RFT
:
First question: What's up with Pulitzer's relationship early on in the book with his mentor and philosopher friend, Thomas Davidson? You seem to imply that they were more than just friends.
James Morris
: I'm not sure I know the answer. The whole issue of sexuality in the 19th century is vastly different than ours. Men had a non-sexual intimacy that was permitted back then. You could hug, kiss or share a bed with a man and people wouldn't jump to the fact that you're gay. Thomas Davidson, in my mind, was a homosexual, but he himself would not use that word. I couldn't decide whether he had that type of relationship with Pulitzer. But Pulitzer had an extremely close relationship with Davidson that shaped his life. I'm sure Pulitzer was aware of his sexuality. And I know this because later in the book one of Pulitzer's male secretaries is arrested for soliciting male sex in Germany. Most employers would not tolerate that type of behavior. Instead, Pulitzer places the man in his London office, and when problems continue Pulitzer backs this man. My belief is Pulitzer's sympathy was from his sensitivity of knowing Davidson. For me the important thing was how Davidson influenced him and sensitized him.
Don't be confused by his professorial looks, Pulitzer was a brawler.
It's seems almost surprising how easily Pulitzer landed jobs in media and was elected into state politics. What was it that made him so successful at such a young age, and what am I doing wrong with my life?


Well, I suspect that you're not a starving immigrant who self-selected yourself to move 3,000 miles away to a country where you knew no one. People like Pulitzer -- folks willing to give away homes far away and move to the U.S. -- had an all consuming drive that's different from people who are native to an area. That said, he also had luck. When he got chance to be a journalist he had the right sense at right time, and when he bought a bankrupt evening paper, he did it just as the evening paper was coming alive. He came to St. Louis when it was a German-speaking mecca. That's how he was able succeed.
What accounts for Pulitzer's incredible temper? You write that on two occasions he literally fired gunshots at his adversaries.
He had a volatile volcanic temper. That's for sure. His brother portrayed that in his journals. He was very intolerant, but I'm not sure that is completely uncharacteristic for people who are more clairvoyant and faster than we are. They have incredible impatience for why we don't get it. But, yes, we would say politely that Pulitzer had issues. And we see that particularly later on in life. He's almost a 19th-century version of Howard Hughes. All his difficulties becomes worse with age -- his tempers, sense of disease and social anxieties and his intolerance of noise.
Morris writes that it was Hearst who drug Pulitzer and The World into yellow journalism, not vice versa.
In researching the book were you surprised with how political newspapers were back then? They seemed to exist solely to support the party or even a single candidate.


It is somewhat surprising if you're not familiar with the media of that age. I love to tell the story that before Pulitzer, the two largest papers in the state were called the
Missouri Republican
and the
Missouri Democrat
. The political ties of the newspapers is not surprising, though, when you realize that back then publishers hadn't figured out a way to monetize newspapers, so they were subsidized by political parties. Part of what Pulitzer did was wean the newspaper from these political subsidies and make them profitable. That didn't mean they weren't still political, but they were indedpendent and could criticize either party.
Some of the documents you use to write the book were discovered in a Dumpster in St. Louis. Can you tell us about that?
A guy named Pat Fogarty was working as a carpenter in St. Louis in the 1980s when he spotted a beautiful wooden box in Dumpster outside a building that was being torn down. He grabbed it and took it home and found number of signed Pulitzer documents inside. He put it in his basement for 20 years. Then two years ago he found an autograph dealer who contacted Columbia University (where Pulitzer's letters are housed) and the university contacted me. I flew to St. Louis to observe the documents. They were mostly receipts about how much he paid for some of his paper investments and how much he borrowed.
It was surprising to me to read how good of friends Pulitzer was with the people behind the
Globe Democrat
, especially considering that a century later the papers would be bitter rivals.
Michael Mudd
Author James McGrath Morris spent five years writing and researching his new book.
When I was a reporter in Missouri in the 1970s not only were the papers competitive, they hated each others guts. Yes, it was different back then. It was actually Pulitzer who got the The Globe (later to become the Globe-Democrat) its Associated Press franchise when he bought a defunct German paper and sold the AP rights to the Globe. Later Pulitzer and the Globe owner Daniel Houser even considered buying a New York paper together. So, yes, they were pretty friendly.
What do you think Pulitzer would think of the
Post-Dispatch
today?
I think he would be aghast at what the paper looks like today. He might have some sympathy about the current tough economic condition of newspapers, but the Post-Dispatch today is a sad and embarrassing version of his legacy. It's not anything like the glory days of the paper, which actually occurred under his son, Joe, who was the black sheep of the family and who Pulitzer banished -- for all intents in purposes -- to St. Louis and installed his less competent sons in charge his true love, the
New York World
. I think it would be tough emotionally for him to know that the paper he cared least about went on to some glory and the one he most cared about vanished.
Would Pulitzer be blogging today?
I think he would be Twittering. I think he would say we are not concentrating enough on content. Medium is not the message, the message is. He would still be facing problem of finding a way to pay for journalism these days, but we need a modern-day Pulitzer to figure things out. I believe that person will be in social media, and I think Pulitzer today would be in social media but his focus would be on content.