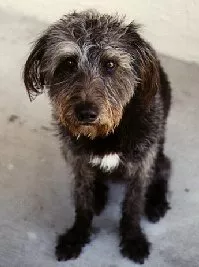 Portrait of this blogger as a dog.
The
Post-Dispatch
fronted on its Sunday cover yesterday the story of the St. Louis
Animal House Fund
, a non-profit agency that was supposed to be raising money for a new animal shelter for the city.
As the
daily reported
, the Animal House Fund spent more money than it took in and at the end of the day had only about $107,000 to its name. This despite raising money for seven years.
All of these revelations, however, weren't new. I'd uncovered the exact same thing when I
broke the news
of Animal House Fund on this blog more than two weeks ago. Then again, I guess you could ask the question: If you "break" the news and no one acknowledges it, is it really breaking the news?
My post has generated exactly one reader comment in over two weeks. The
Post-Dispatch
article already has 43 and counting. And I don't even want to know how many page views the daily's article earned compared to mine. That would be far too depressing.
But, hey, toiling in obscurity? It's what all the greats must endure prior to being discovered, right? Right? (Insert here sounds of crickets chirping in the background.)