We received two tickets to Saturday night's roller derby double-header from the
Arch Rival Roller Girls
this week. But it's not just any double-header: Saturday night's event includes the debut of a St. Louis men's team.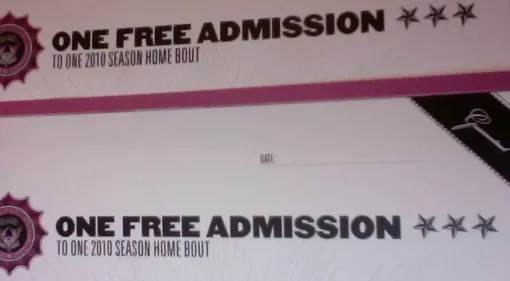 Yes, the GateKeepers, the first men's roller-derby team in St. Louis, will roll onto the floor at the All American Sports Mall (11133 Lindbergh Business Court) this Saturday. Our hometown skaters take on the Indiana Race City Rebels. In the ladies' bout, the
Stunt Devils
play the
Smashinistas
. Doors open at 6:30 p.m. and the games begin at 7 p.m.
Now for the contest...
In the comment section,
give us the name of your roller-derby alter ego and a tiny explanation for the name.
The best answer wins. (
Tips
: Be creative, don't use the
Jersey Shore
nickname generator and bring the funny. Look to gems like
"Mayor Francis Slayer"
for inspiration.
P.S. Be sure to fill in the email box in the comment section so we can get in touch with you. We'll email the winner tomorrow afternoon, and you'll have 'til 7 p.m. Friday to swing by the RFT office on Delmar to pick up your tix.
Good luck.