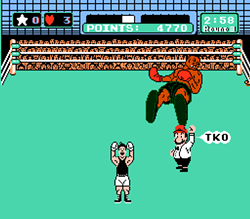 You should be at home playing video games at 8:30 on a Monday night!
You were standing in front of the Subway in the Loop yesterday around 8:45 p.m. with five or six of your teenage friends. I was dressed in athletic shorts and running shoes, carrying a gym bag and wearing headphones because I'd just left the new Club Fitness over the old Blockbuster.
It was very nice of your group to move out of the way without me having to say anything or really even make eye contact for more than half a second. Perhaps you felt I should have said "Pardon me, kind sir," or simply "Sup," because when I was walking away you ran up from behind and punched me in the jaw, knocking my headphones and glasses off and making me very pissed off.
I'm not really sure what you look like since you and your friends had started to walk away by the time I turned around and yelled "What the fuck?!" You didn't respond so I shouted, "Seriously, what the fuck?!" once again.
At this point I had to look around, just to confirm that I had in fact been punched in the face. It was a nice evening, busy in the Loop and I saw a few concerned faces that proved that I hadn't accidentally walked into some invisible pole recently planted in the middle of the Delmar sidewalk.
When I looked back you were half a block away. I didn't feel like chasing you and your friends down to find out if maybe you'd said something to me and I didn't hear because I was listening to my headphones or if you just wanted to see what would happen if you hit the short guy with the goofy mustache in the face and were confused when your sucker punch didn't knock me over.
I probably could have called the cops or found one nearby in the Loop, but I didn't know what you looked like and I figured by the time I finished telling the police the story you'd be long gone and it would be a waste of both mine and the cop's time. Besides, even if you got arrested nothing serious would happen because you're a minor. Even if it was your umpteenth arrest they'd put you in a group home or some awful juvenile lock-up and it would probably just end up making you a more demented shithead when you get older.
Anyhow, I decided it best to just walk away (thanks Mom) but then that twenty-something guy eating with three of his friends at Qdoba had to say "Don't worry about it man, it's just a bunch of stupid niggers." I wanted to punch him more than I wanted to punch you. I yelled, "No! It's not about that! They're just a bunch of little motherfuckers!"
I'm sorry. I didn't mean to call you and your friends little motherfuckers. I meant to say "misguided youth" because you probably just wanted to be the alpha male among your buddies or show them you're hard or something. But still, dude, you can't just punch people in the face.
You should be at home reading or at least playing video games at 8:30 on a Monday evening instead of hanging out in the Loop committing random acts of violence. I'd also recommend a good boxing coach to channel that aggression, give you some discipline and teach you how to throw a real punch.
Finally, you should really be more careful who you pick on. If you couldn't tell from the gym bag and running shoes, I've been working out.
Sincerely,
Keegan Hamilton