Busch IV, circa the mid-1990s when the spanking episode allegedly took place.
We hadn't either, until we talked to
Jeff Lamb
.
Lamb is a voice-over talent in Toledo and just released a self-published book recalling his days as a radio host in the '80s and '90s.
One of the teasers for Lamb's book,
"I Used To Be a DJ"
, caught
Daily RFT
's attention. It's the blurb that goes, "Have you ever wondered what it would be like to ... hear
August Busch IV
being spanked in the next room?"
Curious for more details on that story we called up Lamb yesterday. Following is Lamb's story of the
notorious playboy
and beer scion August Busch IV (who's reportedly undergoing a
stint in rehab
at this very moment).
The incident, which Lamb recounts in his book, played out at an Anheuser-Busch party in Toledo in 1994 -- maybe 1993.
At the time, Lamb was good friends with the Anheuser-Busch distributor in Toledo. So good of friend, in fact, that he'd been invited to go with him to the Bahamas to observe a swimsuit photo shoot for a Budweiser calendar.
One of the models in the calendar also happened to be from Toledo and friends with Lamb. Her name is Rhonda.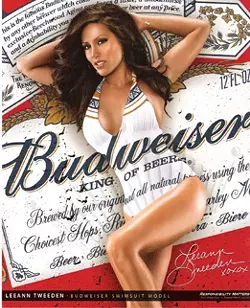 Rhonda hoped to land in a Budweiser poster like this one.
Lamb says that after the calendar came out, August Busch IV -- then serving as a marketing director for his family's brewery -- called up the Toledo distributor. He'd was really impressed with Rhonda's photo in the calendar and wanted her to appear in a Budweiser poster.
According to Lamb, the distributor invited Busch to Toledo to meet Rhonda and decided to throw the young beer baron a party with other Budweiser models. He rented out a bar and had a fleet of limos to ferry party goers to and from the event.
Lamb was also invited to the party and recalls that Busch IV and Rhonda hit it off. After a while, the two left the party together.
"Ten to fifteen minutes he came back to the party alone, and started talking to another model," recalls Lamb, who says he then called up Rhonda on her primitive mid-90s cell phone. "She was really upset. She told me that they were riding back to Busch IV's hotel when he told her that he'd rented out adjoining rooms -- one for him and one for her. He then told her that she probably wouldn't need her room as they'd be sharing a bed."
When Rhonda protested Busch's presumptions, Lamb says he kicked her out of the limo and returned to the party. "She had to walk the rest of the four or five blocks to the hotel."
S&M Eavesdropper: Jeff Lamb
After hanging up with Rhonda, Lamb says he observed Busch IV again leave the bar -- this time with another model. Lamb also left the party around the same time, hopping into a limo and taking it to the hotel where he planned to console Rhonda. Lamb had just arrived in Rhonda's room when he says they heard voices talking in the adjoining room.
Lamb and Rhonda identified the voice of the woman as the model who'd recently left the party with Busch IV. The man's voice they could only assume was that of the beer baron.
"We opened our side of the double doors separating the two rooms so we could hear them better. Soon we heard the man say, 'I've been a very bad boy. I think I need a spanking,'" says Lamb.
"A few minutes later we hear the woman say, 'I've been naughty, too. I need a spanking.' A second or two passed and then we heard this 'kerslaaap!' and the woman shriek 'Ouch! Not so hard!'
"We were dying of laughter," continues Lamb. "We had to bury our faces in the mattress to keep them from hearing us."
Lamb notes that the neither Rhonda nor the model who left with Busch IV ever appeared in a Budweiser poster. His friend Rhonda, though, has gone on to earn something of a following in adult entertainment industry under a stage name.
"It's not porn or anything. She's more of an exhibitionist," says Lamb, who adds that Rhonda was one of two blondes in the uncensored Jerry Springer show,
"I Refuse to Wear Clothes."
You can order and/or download Lamb's book
here
.
Related Content: