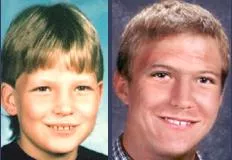 Arlin Henderson at age 11, and how he may have appeared in 2007.
The St. Louis FBI is holding a press conference today to renew interest in the cold case of
Arlin Henderson
.
Arlin disappeared on July 25, 1991, while riding his bicycle near his home in Moscow Mills, 50 miles north of St. Louis. He was 11. Today Arlin would turn 30.
Arlin's bicycle was found three months after his disappearance in a nearby bean field. Nearly 19 years later, his family holds out hope that their boy is still alive.
Law enforcement has never discovered Arlin's body, though they've tracked down a fair share of leads over the year including
speculation that he may have been abducted
by
Michael Devlin
.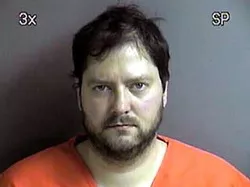 However, no connection has ever been made to Devlin who was discovered in January 2007
living in his Kirkwood apartment with two abducted boys
--
Shawn Hornbeck
and
Ben Ownby
.
The most promising lead seemed to come back in 2001 when a local drug dealer named
Josh Spangler
admitted to killing Arlin
to settle a drug debt with his family. Spangler described abducting Arlin and shooting him in the head three days later with a nine-millimeter handgun. Spangler claimed to bury the body in a shallow creek bed.
Law officials excavated the supposed grave site but could never locate Henderson's body. Afterward investigators became convinced that Spangler made up the story in an attempt to paint the police as incompetent. Spangler -- who was serving a sentence for burglary when he told police the tale -- later pleaded guilty to perjury in fabricating the story.
Arlin's father has passed away since his abduction and his sister was murdered by her estranged husband. According to
website for missing children
, Arlin's mother continues to list her deceased husband's name in the phone book in the hopes that her lost son may one day find it and call home.