Let the Madness begin!
Mizzou is dancing
(despite their stumble in the Big 12 tournament) but unfortunately the
slipper did not fit
for the SLU Billikens, who were pummeled by Rhode Island in the Atlantic 10 tournament and left out of even the lowly NIT, where they could have faced an Illinois team whose bubble also burst on Selection Sunday.
But enough of them and onto the bracket. Kansas, Kentucky, Syracuse and Duke are the No. 1 seeds and Final Four favorites. Big names though they are in the world of college hoops, their players don't have any of the best
names
in the NCAA tournament.
From sons and sound-a-likes of NCAA past legends to silly nicknames and just plain strange monikers, we count down the sixteen best:
16. Gideon Gamble.
Gambling, especially in the office pool to distract from work, is one of the best parts of the big dance. Here's betting that the
Winthrop Eagles
will defeat Arkansas Pine Bluff in Tuesday's play-in game thanks to a big shot from this 6-7 freshman guard.
15. Lebaron Weathers.
Defending the Arkansas Pine-Bluff's basket in the play-in game: Lebaron. Just guessing but the Golden Lions would probably be higher than a 16 seed if they had LeBron as their center instead of this guy. Bonus points for sounding like a used Chrysler.

14. Will Brew Jr.
Beer and college basketball go together like beer and pretzels. Fans of the UC Santa Barbara Gaucho's may need a home brew or two from their sophomore guard after they take on 2-seed Ohio State and their star
Evan Turner.
Didya know that Phaethon was the son of the Greek god, Helios?
13. Iman Shumpert
. Georgia Tech guard from Oak Park, IL average 10 ppg and 4 assists, hopefully to his equally awesome-named teammates
Zachery Peacock
and
Glenn Rice Jr.
(son of former Miami Heat guard Glenn Rice).
12
.
Phaethon Bolton
. Wake Forest reserve guard will not be a household name anytime soon. He averages zero points, zero assists, and zero rebounds.
11. Dash Harris
. Sophomore from Texas A&M narrowly wins the battle for best nickname over Temple's
Scootie Randall
and Utah State's
Pooh Williams
10. Ralph Sampson III
. Minnesota fans hope the 6-11 son of
the Virginia legend
follows in his father's 7-4 footsteps and leads the Golden Gophers to the Final Four. Edges out Montana's
Shawn Stockton
(nephew of Utah Jazz and Gonzaga point guard
John Stockton
) as the best descendant of a former NCAA great.
9. Lucas O'Rear
. On the day after St. Patrick's day, Northern Iowa will need their junior forward whose name sounds like the set up for a prank call to an Irish pub to come up big against UNLV. His teammate
Kwadzo Ahelegbe
get honorable mention in the unpronounceable category.
The elite eight continues after the jump...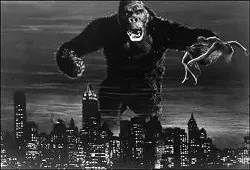 8. Bol Kong
. Gonzaga forward hails from Vancouver, B.C. and scores 5 points per game. Let's hope his nickname is "King."
7. Quincy Pondexter
. University of Washington's star forward led the Huskies to the Pac-10 tournament championship along with his scrappy teammate, point guard
Isaiah Thomas
. Pondexter's equally awesome named father Roscoe played for
Lute Olsen
at Long Beach State while Thomas' dad named his son after the Indiana Hoosiers great (and New York Knicks destroyer) after he lost a bet when Thomas led the Pistons to a 1989 playoff victory over the Lakers.

6.
Festus Ezeli.
Vanderbilt's 6-11 center would likely win the feats of strengths competition at any Festivus celebration. Bonus points for sharing the name of a podunk St. Louis exburb.
5. Dogus Balbay
. Texas guard hails from Turkey, probably regrets signing to play at school who also put
Andy Dick
on the roster.
4. Derwin Kitchen.
Junior from Jacksonville forms a sleepy 1-2 punch with little-used reserve guard
A.J. Yawn.
3. Picasso Simmons
. The Sports Guy's new favorite reserve guard plays for the Murray State Racers. He's not much of an artist on the court, averaging just .4 ppg on the season.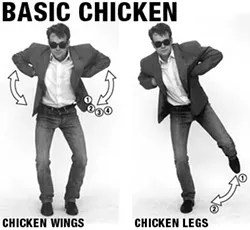 Will Bak Bak bring new moves to the Big Dance?
2. Bak Bak
. California forward averages just 1.3 ppg but 10.2 taunts per game from opposing student sections making chicken noises.
1. Just-in'love Smith
. A senior guard for the Siena Saints, his parents obviously had strong feelings for each other.
Honorable Mention:
Jimmer Fredette (BYU), Marshall Moses (Oklahoma State), Adetunji Adedipe (Ohio), and Bandja Sy (New Mexico State) and LaceDarius Dunn, Tweety Carter, Ekepe Udoh, and Quincy Acy (all from Baylor).