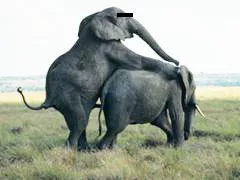 Hey, Jerry Springer. We have your next guests, though you're gonna need a shovel when they come on stage. 'Cause let me tell ya, there some dirty shit going with this pachyderm threesome.
If you haven't heard yet, young Asian elephant playa
Raja
has impregnated his 38-year-old pen mate,
Ellie
. But the seventeen-year-old baller didn't stop there. Oh, no! Today the
Saint Louis Zoo announced
that Raja has also knocked up Ellie's 14-year-old daughter,
Rani
.
Damn! Good thing he kept away from another Saint Louis Zoo elephant,
Jade
. That girl's got herpes.
Fo' real.
Both Ellie and Rani are due next summer, which leaves time for plenty of awkward moments and much explanin'.
Bonus Material: Elephant sex jokes after the jump!
Q: What is an elephant's sex organ?
A: His foot... If he steps on you you're screwed!
Q: What did the female elephant say during sex?
A: "Can I be on top this time?"
Q: What did the elephant say to the naked man?
A: How do you breathe through that little thing?