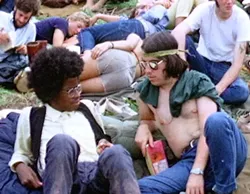 Don't let the man get you down, Woodstock
Nope, that headline isn't recycled from 1969.
The scene of the "crime" was actually tiny
Woodstock, Illinois
, sixty miles northwest of Chicago. Police found more than 4,300 cannabis plants and 500 pounds of dried marijuana in two homes in the sleepy suburb.
Six people have been charged with running the grow-op and one of them is 71-years-old so it's possible that he/she actually attended the real Woodstock.
The
Belleville News-Democrat has the details
via the Chicago
News Sun
:
Jeff Padilla of the Lake County Metropolitan Enforcement Group says the homes were full of plants and didn't have furniture.

He says the houses were set up with grow lights, drip lines, ventilation, air purification units and illegal power lines.

Six people ranging in age from 30 to 71 have been charged with conspiracy to manufacture marijuana. Authorities say they're family members and that more arrests could be forthcoming.

No word on whether police wished the 71-year-old would have had used his right to remain silent because he/she kept talking about how "transcendent" and "groovy" Woodstock was even though the weed wasn't half as good as the stuff they were growing.