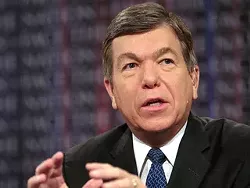 To be blunt about it, readers consider him an ass.
The results are in, and in the closest tally in
Daily RFT
"Ass Clown" history
, this week's title goes to Missouri congressman (and senate hopeful)
Roy Blunt
. Question is: Will Blunt be "honored" by the recognition?
Blunt won 33 percent of the vote in a
special radical right-wing edition
of "Ass Clown of the Week" for saying he was
"honored"
when his name appeared on a list of the nation's most environmentally unfriendly legislators.
Coming in at a very close second (with 32 percent of the vote) was
previous ass clown winner
Cynthia Davis
. The Republican state rep from O'Fallon made news twice last week for sponsoring legislation to allow people to carry
handguns in churches
and to
force feed the terminally ill
.
Third place with 26 percent of the vote was
John Burns
, the
tea party activist
who's spearheading efforts to defeat funding for public transportation in St. Louis.
Fourth place with 9 percent of the vote was conservative blogger
Jim Hoft
with Gateway Pundit.
See all the results and read more about the candidates
here
. Thanks everyone for voting and back at you Friday with a new list of nominees.