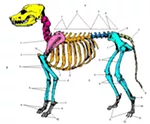 Wikimedia Commons
Some say their pups were just a pile of bones after devouring ham bones.
Bad news for a Washington, Missouri, supplier of enticing dog treats: According to
an AP story
today, the federal
Food & Drug Administration
is investigating a slew of complaints against
Dynamic Pet Products
/
Frick's Quality Meats
because its smoked piggy femur, dubbed the
Real Ham Bone
, has allegedly caused illness and death in many a pooch.
Frick's couldn't have been too surprised by the "news," though, as a sniff around the Interwebz reveals.
The website for
Consumer Affairs
is populated with dog owners'
tales
of puppies befallen by the Real Ham Bone, and the company allegedly refusing to make any amends.
"My dog ate the bone and died," writes Christina of Collierville, Tennessee. "I filed a complaint with consumer affairs back in 2008. Have had no resolution. The company denied my claim for vet bills. They said I chose to give my dog the bone. This was a very very painful death for Buddy. ... I had a necropsy done and still thay claim it wasn't their product. Please do something."
"Trace, my dog, enjoyed chewing on this bone," writes Denise of Brandon, Florida. "She spent the next day at a veterinarian's office where she was diagnosed with a blockage of the colon. That night she endured a 4 hour surgery at Brandon Veterinary Specialists where the vet picked out small round pellets of the bone, up to the size of about a b-b. The next morning she was moved to Florida Veterinary Specialist critical care unit. Again in the evening she had another 2 hour surgery, because the blockage had caused poison in her body. She passed away at 4:30 the next afternoon.... My dog is dead and I have been emotionally affected. My vet bills were 14,000."
From constipation to diarrhea, uncontrollable bladders to shaking episodes, seems like many have
a story to tell
.