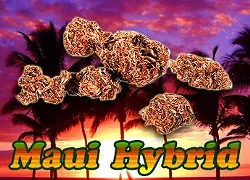 At least this stuff kinda looks like real weed.
Earlier this week Kansas became the first state to outlaw synthetic marijuana, commonly sold under the brand name K2. Closer to home,
Pettis County
in central Missouri banned the stuff and St. Charles County soon
followed suit
.
Obviously, lawmakers in these areas closely studied the results of the war on real drugs and deduced that making something illegal totally stops people from doing it. Ahem. What they probably didn't anticipate was a new form of fake weed appearing on headshop shelves almost immediately after K2 was prohibited.
The products are called "Maui Hybrid" and "Hawaiian Haze," and supposedly they come from the "South African Canna plant" and contain neither THC nor the synthetic cannabinoids used in K2.
The Pitch
in Kansas City
reports
that stores in Hutchinson, Kansas, started stocking the new faux-cannabis less than 48 hours after Kansas
Governor Mark Parkinson
signed the bill outlawing K2 into law.
No idea if the smoke shops in St. Charles County carry the stuff yet but after the
story in yesterday's Post-Dispatch
that made the county's K2 ban sound like the second coming of black Tuesday it's probably just a matter of time.
Who knows if the "Maui Hybrid" and "Hawaiian Haze" actually come from canna (
Wikipedia says
the plant's smoke can be used as insecticide but makes no mention of any psychoactive properties) or if they are free of the now-illegal synthetic cannabinoids contained in K2. Really, it doesn't matter because people will apparently smoke just about anything if they think it will get them high. Especially if it's illegal.