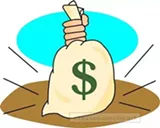 Did you hear the guy who called in to
Charlie Brennan
's
show
on
KMOX
this morning? Said fella claimed that if you punch "St. Louis" or "Missouri" into the state treasurer's
database
of
unclaimed property
-- that's code for dinero, folks -- you'd find all kinds of local and state agencies with dollars and cents just waiting to be picked up from
Clint Zweifel
's office.
And he was right. Check this out:
The actual dollar amounts are not disclosed in the database, except in generic terms like "Over $50." But here's a list of some of the St. Louis
taxpayer-funded institutions
with unclaimed property:
St. Louis Art Museum
St. Louis Board of Education
St. Louis Circuit Clerk's Office
St. Louis City
St. Louis Metropolitan Police Department
St. Louis Public Schools
St. Louis City Tow Yard
St. Louis County Circuit Court
St. Louis County Circuit Clerk
St. Louis County Collector of Revenue
St. Louis County Health Department
St. Louis County Treasurer
St. Louis County Library
St. Louis County Police Department
St. Louis County Sheriff
St. Louis Employee Retirement System
St. Louis Fire Department
St. Louis Metropolitan Sewer District

Some of those have
multiple
accounts unclaimed. And now, for Missouri's state agencies.Here you go:
Missouri Department of Agriculture
Missouri Air National Guard
Missouri American Water Co.
Missouri Department of Revenue
Missouri Department of Health
Missouri Department of Natural Resources
Missouri Department of Health & Senior Services
Missouri Department of Public Safety
Missouri Department of Transportation
Missouri Highway Patrol
Missouri National Guard
Missouri Secretary of State

Guys, claiming the cash appears to be as easy as filling out an online form...