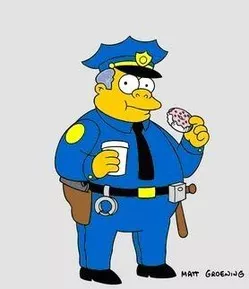 Now here's a cop who appreciates a good donut.
With all the news recently about Dunkin' Donuts return to St. Louis (example
A
,
B
,
C
), I thought I'd check in with some folks said to truly appreciate a good donut -- the boys in blue who read and submit items to
St. Louis Coptalk
.
Shockingly, I'm here to report that I could find not a single thread on the online forum about Dunkin' Donuts arrival in St. Louis. WTF?
Has local law enforcement somehow missed all the media coverage?
Or is it really just a stereotype that cops love donuts?
P.S. I did find an interesting photo on Coptalk (attached below) illustrating, in no uncertain terms, how St. Louis' finest really feel about
local control of the police department
.