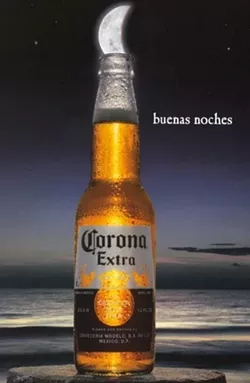 If the latest business rumors are true, the makers of the King of Beers might own a new crown jewel by the end of the year.
According to
Reuters
, AB-InBev is in talks to buy out the Mexican mega-brewer
Grupo Modelo
, makers of Negra Modelo, Pacifico, and Corona Extra.
(In case you spend more time squeezing limes than speaking Español, Corona is the Spanish word for crown.)
AB-InBev already owns 50.2 percent of Modelo and is reportedly planning to purchase the other half of the company for an estimated $10.8 billion.
Via the St. Louis Business Journal
:
"We believe that a deal is likely to be announced this year," analyst Andrew Holland said in a note Tuesday. "We believe that a Modelo acquisition would provide a catalyst for outperformance."

Heineken's $7.7 billion deal to buy the beer operations of Femsa, the maker of Dos Equis, has prompted many beer industry observers to speculate over whether that would push Modelo further into A-B InBev's arms. The strengthened competition from Femsa and Heineken could finally convince Modelo shareholders to drop their resistance to what many analysts expect will become inevitable -- a complete sellout to A-B InBev.

Modelo controls 63 percent of the Mexican beer market and has exclusive rights to import and distribute A-B products in that country.
No word if AB-InBev plans to make an artificially lime-flavored Corona to save Mexicans and gringos the hassle of adding actual lime wedges to their beers.