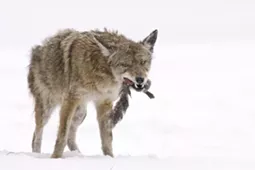 Such an appetite -- a lot of guys are into that.
Late wintertime =
business time
for coyotes. That's why they're being spotted all over the city, including in Forest Park and various nabes, according to
KSDK Channel 5
. Which must explain the presence of the famous coyote
Gal
roaming
Tower Grove Park
: it's breedin' season, baby.
Gal now boasts
1,352 fans on Facebook
. To give you some perspective, that's about a third as many Facebook fans as the
RFT
has. Only Gal is a wild animal, and we're -- you know what, screw perspective.
The major point here, which the Channel 5 story drives home twice in their web article and twice in their video clip: LEAVE THE F@$#ING COYOTE ALONE. Do not feed her. Do not touch her.
Unless, of course, you're a responsible male coyote with a good job and strong family values. Sense of humor a plus. No creeps/jackals.