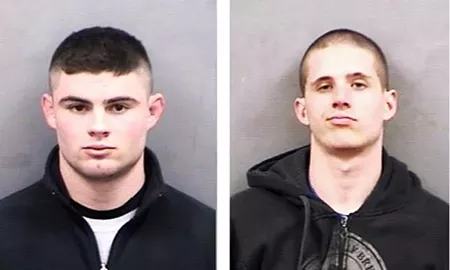 Sean Fitzgerald (left) and Zachary Tucker face hate crime charges after allegedly dropping cotton balls outside Mizzou's black cultural center.
It remains to be seen whether prosecutors will charge two University of Missouri undergraduates with a
felony hate crime for dumping cotton balls
at the school's black cultural center. But there is one offense that the duo is definitely guilty of: ass clownery.
By a slim margin Mizzou students
Sean Fitzgerald
and
Zacahry Tucker
beat out a
Metro East stripper accused of child endangerment
to win last
Friday's Ass Clown of the Week vote
. Forty-one percent of
Daily RFT
readers elected Fitzgerald and Tucker for the honor.
Patrice Johnson
, the stripper found hiding in a closet, earned 32 percent.
Oh, and this weekend Fitzgerald and Tucker
apologized for their actions
though their attorneys, who added that the young men had also climbed campus statues and raised a pirate flag outside the ROTC office. And, yes, alcohol was involved.