Gabe Hartwig
is the editor behind
Girl, You Lost Your Weave
, which chronicles hunks of faux-hair found on the streets of St. Louis. It's more than you might expect. For Hartwig's dedication to this noble cause, he's one of the
13 bloggers we love
.
*Meet many of these bloggers in-person for our first-ever
RFT
blogger happy hour at 5 p.m. tonight at Blueberry Hill on Delmar. (We've conveniently scheduled it at 5 p.m. for your sake: you have a legit reason to cut work early!)*
Go to our
favorite blogger archive page
to see more local bloggers' all-time favorite posts.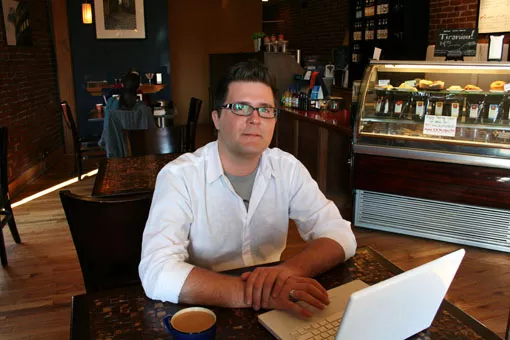 Photo: Emily Good
Gabe Hartwig of the blog, Girl, You Lost Your Weave.
My three faves:

http://girlyoulostyourweave.blogspot.com/2010/02/you-want-fries-with-that-weave.html
I love it when a weave has a good backstory -- even if it's made up. After all, none of us really knows the kind of life a weave led. We're left to imagine. When a reader shared his sighting from Richmond, Va., he included a pretty spectacular tale about how the weave ended up in a pile of French fries.

http://girlyoulostyourweave.blogspot.com/2009/09/monday-weave-haiku.html
Not only was this a pretty distinctive-looking weave, the reader who sent it, Rick, wrote a haiku about it. Sometimes a really great faux hairpiece inspires poetry, I suppose.

http://girlyoulostyourweave.blogspot.com/2009/09/dumpster-weave.html
I found this weave pretty early in my weave-hunting career (Of all the great journalism I've been part of, *this* is what's going to make me famous?) and it's still one of my favorites. Simple pleasures.