By now, regular Daily RFT readers have noticed that in addition to profiling some of
our favorite bloggers in St. Louis
, we're also asking the writers to share some of their all-time favorite posts. For most of the bloggers we asked, the decision was less-than-easy.
That was also the case for Adam Shriver, the writer behind
St. Louis Activist Hub
, who shares his three favorite posts below.
Go to our
favorite blogger archive page
to see more local bloggers' all-time favorite posts.
*Meet these bloggers in-person for our first-ever
RFT
blogger happy hour at 5 p.m.
today
at Blueberry Hill on Delmar. (We've conveniently scheduled it at 5 p.m. for your sake: you have a legit reason to cut work early!)*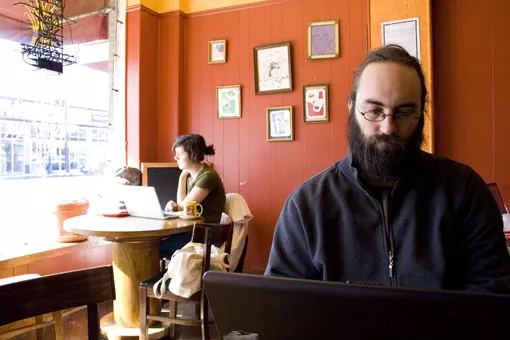 Photo: Emily Good
Adam Shriver at Meshuggah Coffee in the Delmar Loop.
It was hard for me to pick "favorites," so I instead went with the most relevant stories that I think accurately reflect my style of blogging. Hope that's OK.

1. Since the person on last week's cover of the RFT attacked me by name and then refused to respond after I pointed out why her attacks were completely off base, I'd like to share this response to her criticisms: http://stlactivisthub.blogspot.com/2010/02/why-dana-loesch-wont-respond-to-me.html. I think it's a pretty thorough takedown of the kind of punditry Loesch practices.

2. I put a lot of research time into this post detailing the background of John Burns, the spokesperson for the anti-public transportation group misleadingly labeled Citizens for Better Transit: http://stlactivisthub.blogspot.com/2010/03/who-is-cbts-john-burns.html.

3. Finally, just to show that I'm not all about flame-throwing advocacy, I wanted to include a couple posts where I collected stories about my friend Melanie Shouse, a health care activist who had written posts for my blog and recently died of breast cancer. I complied the stories at http://stlactivisthub.blogspot.com/2010/02/for-melanie.html and http://stlactivisthub.blogspot.com/2010/02/more-links-about-melanie.html.