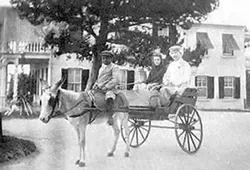 Mark Twain and his jockey enter the on-ramp of I-70, circa 1880.
I'm not sure which of his
quotes on foolishness
Mark Twain would choose to comment on the
recent actions in the Missouri Senate
where legislators are attempting to rename a stretch of Interstate 70 through St. Louis.
Back in 1999, state lawmakers took Twain's name off a stretch of I-70 and named it Mark McGwire Highway after the slugger hit 70 home runs. Now we know that McGwire was juiced on steroids when he broke the record, and so state legislators want to change the name.
Yesterday the Senate voted unanimously to rename the roadway after Missouri's most celebrated author. So, dear readers, which Twain quote would best describe the backtracking going on in Jefferson City...
"Let us be thankful for the fools; but for them the rest of us could not succeed." --
Following the Equator
; Pudd'nhead Wilson's New Calendar
or...(my favorite)
"If you send a damned fool to St. Louis, and you don't tell them he's a damned fool, they'll never find out." --
Life on the Mississippi