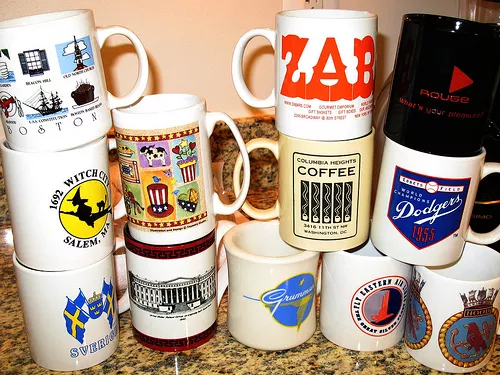 flickr.com/photos/mr_t_in_dc
Which St. Louis Coffee Party will reign supreme?
Updated March 2, 4:14 p.m.
The
St. Louis Tea Party
turned one year old last weekend. To celebrate, not one, but two, fledgling political groups are throwing their own warm beverage parties. Coincidentally, but not surprisingly, both call themselves the St. Louis Coffee Party.
The first St. Louis Coffee Party gathered Friday night, February 26, at
Foam Coffee & Beer
in Benton Park. The second, the local outpost of a DC-based national movement that has been profiled in the
Washington Post
and
New York Times
, will meet this Thursday, March 4, at 6:30 p.m. at
Mokabe's Coffeehouse
in Tower Grove South.
Both have positioned themselves as the alternative to the Tea Party. But why, oh why, could one not have called itself the Hot Cocoa Party, or the Hot Toddy Party, or even the Chicken Soup Party? Will one become the French Press Party, or is that too unpatriotic?
About 25 people showed up to the first Coffee Party last Friday, said Foam barista Jordan Howe. They borrowed the coffeehouse's art supplies to make signs and mocked the right-wing Tea Party.
The agenda, according to an announcement on the blog
trackingprogress.org
, which organized the event, was equal parts politics and coffee:
1. Why is coffee great?
2. Isn't it funny that Obama isn't a socialist?
3. Which place in St. Louis has the best coffee?
4. Wouldn't it be great if Obama was a socialist? How would you celebrate? Would you prepare a death panel for someone? Probably not, that would be ridiculous.
5. How do you prepare your coffee? With the sub-question: Have you ever used a percolator?
6. How does it make you feel that Obama is actually closer in politics to Teddy Roosevelt than Franklin Roosevelt?
7. What does your favorite mug look like?
8. Isn't it funny that conservative rhetoric is grounded in the illusion of expansive state oppression, as if the mask of suffering they wear has blocked their view of unfettered market capitalism?
9. No, seriously, what is the deal with the Right?
10. What would happen if a kitten drank some coffee?

The other Coffee Party, the one yet to meet, was conceived less in the spirit of mockery than in activism. The national Coffee Party, in the words of its mission statement,
gives voice to Americans who want to see cooperation in government. We recognize that the federal government is not the enemy of the people, but the expression of our collective will, and that we must participate in the democratic process in order to address the challenges that we face as Americans.

Founded by Annabel Park, a documentary filmmaker who lives outside Washington, DC,
Coffee Party USA
has been growing exponentially over the past few weeks, from 3,500 Facebook fans to more than 50,000. Park says she cannot keep up with all the requests to start new chapters, but promises there will be a national convention somewhere in the Midwest this summer called "Meet Me in the Middle."
"We're not the opposite of the Tea Party," Park told the
New York Times
. "We're a different model of civic participation, but in the end we may want some of the same things." Park says that her Coffee Party gatherings have even attracted a few curious Tea Partiers.
It doesn't seem likely the same can be said of the other Coffee Party.
Both groups, however, have pledged to meet monthly. We shall see which one proves triumphant.
Update:
Dan Lear, organizer of the St. Louis chapter of Coffee Party USA, aka Coffee Party #2, just told
Daily RFT
that the local affiliate of CNN will be dropping in on his group's meetup on Thursday.
"For the last three days, I've been on the phone and my email, talking with people interested in the Coffee Party movement, people wanting to start a new Coffee Party chapter, attend a meeting, or get more information," Lear writes in an e-mail. "The local Missouri Facebook page, only a few days old, has more than 200 fans.
"We're going into our Meet Thursday with one idea clearly in mind: we're not about numbers. We'd be delighted to see hundreds of people spilling across the street into Tower Grove Park! But we'll also be perfectly happy to have three committed people sitting at a table in a spirit of cooperation and with an earnest desire to make a difference."