He quiero'd Taco Bell a little too much
fugitives caught in a high-speed chase head south of the border, but a Taco Bell in Caseyville is where a police pursuit began last Thursday.
The
Belleville News-Democrat reports
that Isaiah Ross, 20, of East St. Louis, got into an argument with "the mother of his child," who works at a Taco Bell on Old Country Inn Drive in Caseyville. The dispute started to get so out of hand that the woman's fast-food co-workers called the cops.
When police arrived they spotted Ross in his Ford Explorer and tried to pull him over. Ross reacted by attempting to re-enact a scene from
Bad Boys.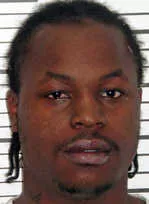 Image via bnd.com
Isaiah Ross
Reports the
BND
:
The man drove away, and during the pursuit, ran several red lights, drove against traffic and committed other traffic violations. He surrendered to police after driving the vehicle into someone's backyard in East St. Louis.

Ross later told police he had argued with the mother of his child at Taco Bell, where she works. He said he should have stopped for police, but was scared and upset after the argument.