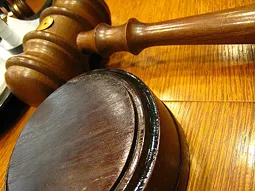 http://www.flickr.com/photos/fabliaux/ / CC BY-ND 2.0
Federal Judge Spencer Letts, a St. Louis native, is a quirky dude.
An
estimable West-Coast paper
is running a
two-parter
on a quirky federal judge (and St. Louis native)
John Spencer Letts
, who recently launched a private crusade to spring a crack offender from what he considered an unconscionable jail sentence.
Now, offender and judge are buddies -- the first
L.A. Times
piece
opens
with the gray-haired, 72-year-old Letts nervously canvassing skid row in search of his friend, who apparently had relapsed.
Letts was born in St. Louis in 1934, the article says, and was "the privileged son of a vice president at Prudential Insurance." There's no mention of where he went to high school (does anybody know? IT'S CRITICALLY IMPORTANT.)
Letts is, overall, an interesting guy.
LA Times
reporter
Kurt Streeter
writes that after
President Ronald Reagan
appointed him to the federal bench, Letts, an erstwhile corporate lawyer, was unaccustomed to street criminals and the courtroom in general:
At the courthouse, [Letts] spoke softly, tended to mumble, was prone to nervous laughter and would launch into asides on such subjects as the nature of time, the age of reason and the essential goodness of man.
Letts grew sickened by the harsh mandatory minimum laws being enacted in the 1980s. In one offender's case he even asked
the Gipper
for a presidential pardon (and was turned down).
He took an active interest in the drug offenders he put away, most especially
Michael Banyard
, who got 25 years for a small amount of crack, thanks to the
three-strike law
. The judge hired some private lawyers for the younger man, and managed to get him freed.
The second part of the series, we assume, will be running soon...