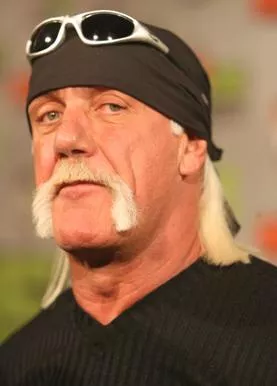 Daily RFT
caught up with Hulk Hogan on Friday while the legendary wrestler was in town to promote his April 18 visit to the St. Charles Family Arena with
TNA Lockdown
.
As wrestling aficionados and purveyors of pop culture know, it's been a tough couple years for the Hulkster. He's currently undergoing a nasty divorce from his wife of 20-plus years and recently settled a costly negligence suit stemming from a car crash involving his son, Nick.
See a slideshow of Hogan's visit to St. Louis.
As we awaited our interview we watched the physically and emotionally battered wrestler hobble about a restaurant banquet room in sensible New Balance sneakers. Glued to his ear was a cell phone into which Hogan inquired whether he could borrow money against his home even though the property is tied up in the divorce.
Yes, these days it seems life has given Terry Bollea a.k.a. "Hulk Hogan" one of his own signature
leg drops
-- right to the kisser. But then that's what's always made Hogan so endearing. As high as he's flown both above and outside the ring, Hogan remains incredibly down-to-earth, as we discovered when we sat down to discuss with him mustaches, wrestling, bad movies and steroids. Our Q&A with Hogan follows...
Daily RFT
:
First of all, how long have you worn the golden arch, a.k.a. that sexy beautiful fu-manchu of yours?
Hogan
: I'm going to be 57 in August. The year after I got out of high school a girlfriend asked me to grow it, and I've had ever since. So you do the math. A long time.
Is it the key to your longevity in wrestling, and would you lose your power a la Sampson if you ever shaved it?
If I lost the 'stache, I'd be out of gas. So, yes, I'd say it's probably the key to everything.
At the end of your book (the 2009
My Life Outside the Ring
) you're wavering with returning to wrestling. What brought you back into the fold?
A couple of things. I was in a situation where I was kind of lost and I happened to walk by a ring in a gym. I reached out and touched it, and I got goosebumps. I knew I had a problem, kind of like being an addict. I said, 'Oh boy.' It's like driving a fast car or being on a date with a beautiful woman. So, that was part of it. The other was necessity. After the last couple years, financially, I needed to do something. I was devastated financially.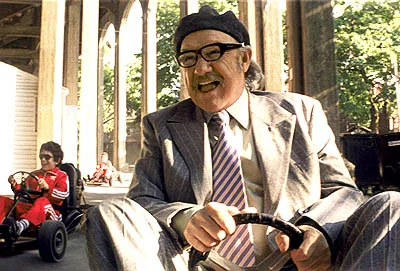 Gene Hackman: Hulk Hogan he is not.
I thought about moving out to L.A. and doing the movie thing cause I have seventeen movies under my belt -- mostly low-budget kid movies, kind of like what The Rock is doing now. My agent said they could put me in supporting roles. I'd never be a Gene Hackman or anything, but there is work for me. But I just wasn't into it. I needed to to work and thought why not get back to what I love, wrestling?
But with three back surgeries, hip replacements and knee replacements, I really couldn't wrestle. Vince McMahon was dangling a carrot trying to get me to come back to WWE. He offered me 25-year deal, essentially for my trademark and licensing. At the same time I was watching TNA. I liked the energy and talent, and when I started talking to Dixie Carter (president of TNA Wrestling) she was different than any other bosses or promoters I had. She had good energy and seemed honest. She had me hooked. I fit into her vision, and I had a chance to start my life over. I'm very excited about the decision.
How long can you still get into the ring?
Oh, I can't brother. I was in Australia recently and did four dates wrestling Ric Flair. The first day I ran into Ric with a shoulder tackle and knocked him down. He popped up and came right back at me. I didn't have my footing right. I was turned in when he hit me and my right hip popped out of its socket. The pain shot like a piece of electricity to my head and right behind my ear. I felt like my head exploded. I fell and dumbed it up against the rope until I could pop my hip back in. That was my first day back.
How long had you been out?
It had been three or four years. I really didn't want to wrestle, but I got into a situation with TNA when the fans are chanting 'Hogan! Hogan!', it's hard to say no. I painted myself in a corner. Now I'm fighting a tag-team match March 8 with Abyss against Rick Flair and AJ Styles. I did that to myself, but I really shouldn't be wrestling anymore.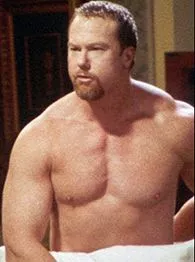 Your life somewhat parallels that of a famous St. Louis muscleman in Mark McGwire. Both of you were dragged before Congress to testify about steroids. You admitted you used the drugs at that time. McGwire, of course, just recently confessed. Do you have any advice for Big Mac in dealing with critics?
I don't know his situation too well. But the only advice I have is don't play a game with the fans. You've got to come clean. Don't cling to half truths, either. I tried that during an interview on Arsenio Hall. I said I wasn't on steroids, which was half true. I wasn't when he asked me. But had I been? Yes. My advice is to lay it all out there.
The film
Rocky III
made your career. What did
Santa with Muscles
do for it?
Oh brother! It made me never want to make another movie again. Standing in the middle of Los Angeles in July wearing a full-blown Santa outfit? Brilliant!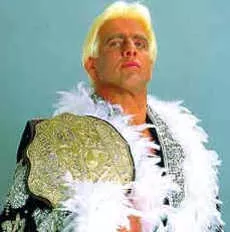 What is it about you and Ric Flair that has sustained your rivalry for 30+ years. Are you just jealous of his fabulous feathered robes. Or is he jealous of your 24-inch pythons?
I think it's the fans. There's a real energy there. On a personal note I think he's the greatest wrestler ever. He's better than Lou Thesz, Gorgeous George -- you name it. But it's the fans. They are the ones that keep this going.