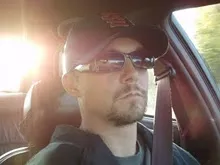 Via SharpElbows.net
A man we can only presume to be Adam Sharp.
The people have spoken. By the
most convincing margin ever
in
Ass Clown of the Week
voting, this week's title goes to
Adam Sharp
who came away with an astonishing
78 percent of the vote
.
So who is Sharp and why do so many folks consider him an ass hat of the nth degree?
Sharp is the conservative blogger behind
Sharp-Elbows.net
who shoved a video camera in the face of Fox 2 reporter
Charles Jaco
while the latter covered a health-care rally downtown. Sharp later pressed charges when Jaco allegedly bumped into him. You can see a video of the incident -- and
hear Sharp's definition of "tea bagging"
--
here
.