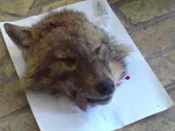 Wikimedia Commons
Sounds like TerryTGPCoyote wants Gal's head on a platter.
Upon reading in a local newspaper that a coyote had been putzing about
Tower Grove Park
, not scaring anybody at all, and like, being really, really
nice
,
Unreal
did what any normal punk would do: friended it on
Facebook
.
Said coyote describes
herself
on the 'book as a "female" named "Gal" -- and already has 593 fans. The vain little beast is actually asking peeps to write on her wall. And telling everybody what a "tech-savvy" community she inhabits.
But according to another coyote, the
wi-fi
in Tower Grove is "absolute shit." Oh, yes. Jackal smackdown!
The latter coyote goes by
@TerryTGPCoyote
on
Twitter
. Way less vain, it has only
tweeted once
and appears to be a much ballsier cat. So, we approached.
Unreal: Tell us how a coyote learned to use Facebook and Twitter.
@TerryTGPCoyote:
The coyote on Facebook is a phony. There is only one Tower Grove coyote.
Why do you like Tower Grove Park? What's wrong with Carondelet, Fairground or Forest Park, for that matter?
TG is the closest to Jack in the Box.
Seems like you're alone out there, without the pack. What are you lookin' for in life?

I'm not a cat. I'm pretty content in fact. We're independent.
Who named you Terry? No offense, but it doesn't sound like a very toothy name.

My mom, duh.
Heard you were looking kind of mangy. Found anything good in that 'hood? What's the local delicacy?
Every few days I'll make it over to Flora and throw down on
Pomeranian
. Otherwise, it's squirrels and mice.
What's with this "Gal" on Facebook, who has 593 fans? Doppelganger?!
Why would I have a stupid ass name like "Galadriel"? That was written AFTER I created my Twitter account.
Please describe your experiences with the domesticated animals in the Tower Grove area. Word has it they're all yuppie pups.
See #5 [about the Pomeranian]. Holla.