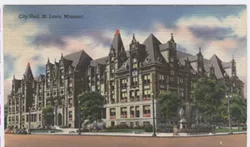 A group called
United for Missouri's Priorities
is holding a press conference right now in St. Louis City Hall in an effort to mount opposition to a ballot initiative that would end the city's earning's tax.
The ballot drive is the
brainchild of Rex Singuefield
, a wealthy investor who wants to eliminate the city's earning tax as well as the state's income tax. Sinquefield has proposed increasing sales taxes to make up for the loss of the income taxes. In St. Louis, the earnings tax provides about one-third of the city's budget.
"This dangerous and misguided initiative to eliminate over one-third of the funding St. Louis needs for basic services like fire fighters and police officers will devastate our city. It will devastate public safety," says Tony Kelley, Missouri State Council of Fire Fighters and ally of United for Missouri's Priorities. "So we have come together to call on voters to Decline To Sign any petition for a ballot measure that will eliminate the earnings tax and gut funding for public safety in our great city."