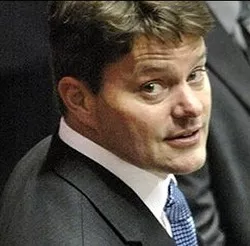 Image Via
Rod Jetton
Much has been written on
Daily RFT
about Missouri's former Republican House Speaker
R
od Jetton
, his arrest on rape charges and his unintentionally hilarious choice of
safe words
.
On the other hand, relatively little has been reported about
Mary Elizabeth Lowe
, the 35-year-old Sikeston woman who accuses Jetton of binding her arms, punching her in the face and choking her during what started out as consensual sex.
Three newspapers from across the state, however, recently did some digging and unearthed some not-so-flattering details about Lowe.
The
Southeast Missourian reports
that Jetton and Lowe were high school classmates in Charleston, MIssouri and the couple reconnected on Facebook months before the alleged attack.
The
Kansas City Star writes
that the relationship started out strictly professional:
She initially contacted Jetton because of her affiliation with the Rape, Abuse and Incest National Network, and talked with him about legislative efforts in Missouri on behalf of victims of sexual abuse.

That's innocuous enough, but what raises eyebrows is the
Missourian
's report of sexting between Jetton and Lowe that referenced rough sex. She admitted some of the talks "were sexual in nature."
"We definitely flirted a lot on the phone," [she] said.

Nevertheless, she says she never wanted Jetton to hit her.
"Did you text 'I'm disobedient and you may have to punish me' to Mr. Jetton?'" [Jetton's defense attorney Stephen] Wilson asked [the woman]. "Did you say 'If it's not rough, it isn't fun'?"

[The woman] said while their text messages were playful and they talked about sex, she didn't text those words exactly.

"I recall talking how we were going to pleasure each other. I didn't know he'd like it rough," [she] said.

Even more skeptical is
a piece earlier this month in the
SEMO Times,
entitled "Was Justice Blind."
They reviewed court documents and found that Lowe changed her story when police confronted her about the text messages.
They also point out prior accusations of sexual abuse by Lowe which were eventually dropped.
This is not the first time that Mrs. Lowe who is married, has allegedly been assaulted, and not the first time Mrs. Lowe has alleged that she was sexually abused. In 2003 Mrs. Lowe accused her grandfather and two uncles of sexually abusing her when she was younger. According to a police report provided by the Charleston Department of Public Safety.

The SEMO TIMES contacted Tony Gorostiza, one of the family members Lowe alleges abused her and he stated, "I don't know anything about what happened over in Sikeston, but I never touched Libby and she knows it. She ended up dropping changing her story about those lies a long time ago". Lowe stated in the report she came forward to keep other children from being harmed, but a few weeks later dropped the charges.

The
SEMO Times
also found that in June of last year Lowe sought -- but was never issued -- restraining order against her husband because he was "coming into my bedroom in the middle of the night and trying to have sexual relations." She dropped the request, along with another in August in which she initially claimed her husband "was threatening violence and verbal abuse."
And, last but not least, the
SEMO Times
quotes divorce records between Lowe and her husband. The husband said in a court filing that he sought full custody of the couple's children because his ex "suffers from various and sundry mental diseases and defects" and "is at risk of exposing the minor children to inappropriate behavior on her part and that of men with whom she continues to have casual sexual relationships with."
A judge in the southeastern Missouri town of Benton found enough probable cause yesterday to
move forward with felony charges
against Jetton.
(Hat tip to
The Pitch
for piecing this together first)