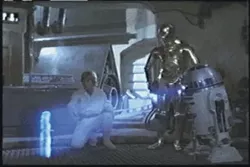 R2-D2 introduces the world to "sexting" in 1977 when he shares a hologram of the sexy Princess Leia with friends Luke and C-3PO.
The
Post-Dispatch
fronts a
cover story today
on the ridiculously earnest debate in Springfield where Illinois legislators are wringing their collective hands over the scourge of teen "sexting."
The lawmakers are considering two bills. One would would require teens to enter counseling and/or community service if they're caught sending sexy pics via their cell phones.
Another measure would discipline only those teens who receive a lewd photo of a girlfriend or boyfriend and then forward that photo to all their friends.
Forwarding photos to your friends? Umm, isn't that expected of high-schoolers?
Best vignette from today's P-D article on sexting:
The issue has highlighted a part of cyber culture -- and youth culture -- that has clearly shocked and baffled the generally middle-aged lawmakers studying the problem. When one critic referred to some "sexting" as merely "a Romeo-and-Juliet thing," state Sen. Bill Haine, D-Alton, responded, incredulously: "I don't remember that from Shakespeare!"