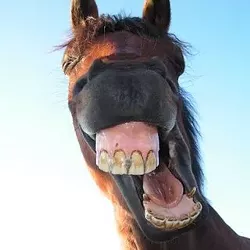 In 2007, Illinois outlawed the mass slaughter of horses. The ban closed a factory in DeKalb that was the last facility in the country to process horse meat and export it to nations with more, ahem, thoroughly bred culinary preferences.
But now at least one official,
Rep. Jim Sacia
of Freeport, says the law had unintended consequences. He says owners of old or injured nags often do away with their steeds inhumanely rather than send them off to the factory for a quick, merciful killing.
What's more, Sacia adds, slaughterhouses in Mexico now control the horse meat trade and process thousands of pony meat each year so why shouldn't Illinois?
Sacia recently introduced HB 4812 to repeal the ban. It has already passed the Agriculture and Conservation Committee and will be discussed by the General Assembly.
Reports
MyFox Ilinois
:
"We can document untold numbers of abandoned starving horses. That absolutely is occurring for one reason and one reason only and that is we do not allow humane slaughtering of horses in the United States today," Sacia said.

Shockingly, not everyone thinks this is a good idea.
But Gail Vacca with the Illinois Equine Humane Center said that's just an excuse.

Via MyFox Illinois, again:
Vacca said many of the supporters of horse slaughter are looking for an easy solution to a complicated problem.

"With the responsible horse owner, 99 percent of us already humanely euthanize our horses. So it's a very small percentage of horses that have irresponsible owners that are proponents of slaughter because it's an easy out for them."

Sacia has also proposed a clause that would charge the horse slaughterhouses a $25 fee for each filly they fillet. The money would go toward expanding rescue and care operations for mistreated horses.