O'Keefe (left) and Basel photographed by authorities following their arrest in New Orleans last month.
Just got a heads up from Adam Shriver over at
St. Louis Activist Hub
about a new video showing Tea Party "heroes"
James O'Keefe
and
Joseph Basel
disrupting a gay-rights rally in St. Louis last November.
Dozens of people showed up at the Cathedral Basilica on November 29 to protest the St. Louis archdiocese's monetary gift of $10,000 to help defeat a same-sex marriage vote in Maine.
Also on hand that Sunday morning were O'Keefe and Basel. The day before -- November 28 -- O'Keefe appeared as the
keynote speaker at a St. Louis Tea Party rally
downtown.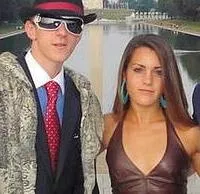 O'Keefe and ACORN video accomplice Hannah Giles as pimp and 'ho.
O'Keefe, as you'll recall, was the mastermind behind those videos last year in which he and a female friend dressed like a pimp and prostitute and sought business advice from ACORN. Last month O'Keefe and Basel
made front-page news across the country
when they and two others were arrested attempting to access the phone lines of Senator Mary Landrieu (D - Louisiana).
Below is the video of O'Keefe and Basel at the
Show Me No Hate
rally on Nov. 29. As Adam Shriver
reports on his blog
, the two had pretended to be part of the gay-rights group but were there with other saboteurs who held signs saying, "Free Abortions."
In this video, Show Me No Hate organizer
Ed Reggi
attempts to get the smug lil' bastards to stand behind a line in the sidewalk as instructed by St. Louis police. He fails.