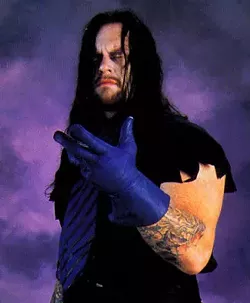 The Undertaker, not on fire.
We're not speaking figuratively with that headline. A pro wrestling star was actually engulfed in flames last night in St. Louis because of a problem with the stadium's pyrotechnics.

The WWE hosted a pay-per-view event last night at the Scottrade Center called "The Elimination Chamber." The match for the "World Heavyweight Championship" featured several combatants, including The Undertaker, one of the oldest characters in the soap opera/sport.

The Undertaker was burned while making his grand entrance to the ring.

Several flamethrowers along the walkway were shooting fire for dramatic effect. Either the wrestler mistimed his steps or the guy operating the pyrotechnics pushed a button at the wrong time, but The Undertaker was standing directly over one of flamethrowers as it spat out a ball of fire.

The wrestler's robe caught fire and he began running (normally, we're told, he walks very slowly into the ring like a zombie) as he attempted to shed the smoldering garment. He was able to remove it without sustaining a serious injury and fought in the match as if nothing had happened. Unfortunately, though, he lost the fight to Chris Jericho.

Amazing video of the accident after the jump...



Here's the take from a pundit at Prowrestling.net:

Wow, this could have ended so much worse. It's amazing that Taker was able to work the match and seemed to avoid major injury. It was hard to tell what happened from the view WWE showed on the pay-per-view last night, but this footage was taken from a fan in the upper deck of the arena and is a must see clip.

Daily RFT called the Scottrade Center to find out what happened and who is to blame for the mishap. We're still awaiting a reply from their PR person. Check back for details. In the meantime, watch that clip again and see the indisputable visual proof that being a pro wrestler is
bad for your health
.
UPDATE 12:05 p.m.:
Just spoke to Robert Zimmerman, a spokesman for WWE. He said the accident last night was "a mistiming with the pyrotechnics" and the Undertaker was only allowed to perform after being cleared by a ringside physician.
"Thank God he was fine," Zimmerman said. "It basically amounted to a sunburn. It wasn't over a large area of his body, just a short area, just a little bit on his chest."
Asked if the incident will cause the WWE to review or change their procedures for having flamethrowers as part of their productions, Zimmerman replied, "I don't know. I haven't spoken to anyone to find out what was the cause, if it was timing, if there was something wrong with whatever. We have to go back and investigate and make a final determination."