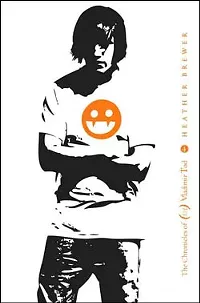 It's here! And if you don't know why you should be excited, you need to have a chat with a seventh grader right now.
If the words "teen vampire" make you recoil, here is some comforting news: Vladimir Tod does not sparkle. Some less comforting news: the recent entry in the Chronicles of Vladimir Tod,
Eleventh Grade Burns
, just made its debut at number five on the
New York Times
bestseller list
. It owes this achievement to an army of eager fans known as "minions", most of whom are in junior high.
You can find out what the hype is about tonight at 7 p.m. when Vlad's creator, St. Louis writer
Heather Brewer
, will be
reading
at the St. Louis County Library headquarters.
The Chronicles of Vladimir Tod started with Eighth Grade Bites and will finish with Twelfth Grade Kills, out in August. "Vlad will always be young," Brewer says. "I don't think a sixth grader would relate to college. Also," she adds with a cackle, "what if he died?"
Brewer is 36, though she says that in her mind, she's eternally 16. She is small and energetic and has black and purple hair. She decided early on that she wanted minions, not fans because "minons are a hoard. They get stuff done." The minions call her "Auntie Heather."
"I'm not their friend and I'm not exactly a role model," she explains, "but they listen to me." She issues orders from her website -- mostly encouraging them to buy more Vlad books -- and keeps them apprised of her publishing schedule. (She also describes in great detail how she got her purple hair but urges the minions to consult their parents before ordering the dye off the internet.)
She began the first Vlad book four years ago when she decided she would write about things she knew. These turned out to be being a teenager, getting bullied and vampires. (She read Dracula for the first time at age 12, the start of a lifelong obsession.) Suddenly a vision popped into her head of a boy with fangs.
Vlad is, technically, only a half-vampire, the first, and maybe only, of his kind. In the vampire community, known as Elysia, intermarriage is a serious crime punishable by death. "Their society is really messed-up," Brewer explains. To avoid execution, Vlad's parents fled with him to the small town of Bathory where his vampire father successfully passed for human. All was happy and idyllic until the older Tods were killed in a mysterious fire when Vlad was ten.
Now Vlad lives with his mother's best friend, a human nurse named Nelly who keeps him supplied with rare steak and blood she brings home from the hospital. (Vlad favors Type AB, particularly mixed with chocolate.) The only other person who knows his secret is his best friend Henry.
The series chronicles Vlad's quest to learn more about his parents and his vampire heritage while avoiding the bullies at school and emissaries from the Elysia who want to kill him for being half-human.
"Vampires used to be dangerous," Brewer complains. "Now they're romantic and sparkly. I want mine to be more dangerous than sexy. Except for Vlad. His awkwardness comes from being half-human." Unlike, say, Twilight's Edward Cullen, Vlad really is a thirteen-year-old boy, with all the suavity with women this implies.
"Auntie Heather" shows off the mark of a vampire. Hers is a fake. Vlad's is real.
Brewer has just returned from a five-state tour promoting Eleventh Grade Burns, which included a "Snow Ball" in Michigan, a tribute to the biggest social event of the year in Bathory. Tonight she'll be reading with her friend Lisa McMann, author most recently of Gone, and on Friday and Saturday she will entertain the minions at the Borders in Fairview Heights and Main Street Books in St. Charles.
Now that she's finished Vlad's story -- though the plot of Twelfth Grade Kills remains a deep, dark secret -- Brewer is hard at work on two more series. One, The Slayer Journals, is a companion to the Vlad books, chronicling the adventures of Joss, who made his debut in Ninth Grade Slays. (Three guesses as to Joss' role. We promise you won't need the last two.)
She's also 20,000 words into
Bloodbound
, due out in the fall of 2011, the first in a trilogy about a teenage girl named Kaya who attends a special magical academy. "There's a little romance," Brewer promises, "some action and a giant blue scaley man-eating monster."