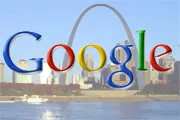 Last week
we reported
that
Google
is looking for a test market for a
fiber optic Internet service
that could promise Internet speeds to users that could reach 100 megabytes-per-second or more (currently the fastest broadband available is about 18 mbps). The question: will St. Louis bid to become one of the test markets?
"We're in the process of completing a very competitive application."
is the message received via Twitter direct message from Kara Bowlin, Mayor Slay's press secretary, confirming that the City of St. Louis is bidding to become the test market.
But don't get your hopes up, because St. Louis certainly won't be the only city competing to win Google's fiber lottery. It seems that nearly every other city in the country wants it too. San Francisco mayor Gavin Newsom seems to want to jump into the Google sweepstakes as well, even though San Francisco doesn't seem to meet many of the criteria Google has laid out (Read an SF perspective here:
"S.F. 'Likely' to Enter Google's Fiber Network Sweepstakes."
)
According to their
FAQ
on the project, Google is looking for a few things in its test market:
A city that will help them deploy their network in a quick and efficient way. A project of this type will likely involve laying infrastructure below streets that would require special permits.
A municipality where there is a diverse user base where Google can test products and services that specifically take advantage of high-speed Internet service.
And a place that can work as a hub for rolling out the service to other areas as well.
They'll also take into consideration; "
... level of community support, local resources, weather conditions, approved construction methods and local regulatory issues.
"
The deadline for applications is
March 26, 2010
, but Google officials haven't said when they will announce the winning city, only that it will come later this year.
And just in case you still really don't understand what this is about Google made this video to explain what they are doing: