Some scalpers wanted $800. For others, a more modest $200 would have sufficed. Then there was the guy who tried to pocket $4,000 for a single seat.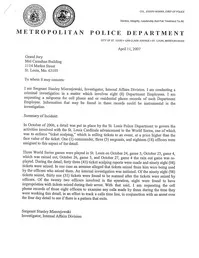 SLMPD Internal Affairs file
Click to enlarge this police request to a Grand Jury looking at the ticket scandal case.
In all, 98 tickets were seized from scalpers during the
2006 World Series
.
Cops passed along at least
31
of those to friends and/or family members.
Some of those 31 tickets were used to enter the
St. Louis Cardinals vs. Detroit Tiger
s games at
Busch Stadium
within minutes of being seized by undercover officers with the
St. Louis Metropolitan Police Department
, while others were used several hours or several days later.
The stats are revealed in an
Internal Affairs file
that was obtained by the
Daily RFT
today.
The stats largely confirm the broad picture painted by the police department nearly three years ago, when then-police chief Joe Mokwa announced that eight officers were being demoted as a result of the probe but refused to release any other details.
That same day, Circuit Attorney Jennifer Joyce announced that none of the officers were being prosecuted in the matter.
The IA criminal investigation file shows that IA investigator
Stanley Mierzejewski
was able to confirm with the Cardinals that the 31 tickets had been electronically scanned by ticket-takers at Busch Stadium.
And the file shows that Mierzejewski subpoenaed and obtained copies of the cell phone records for each of the eight officers, seeking clues or call patterns.
But the investigator was not able to establish the identities of anyone who used the tickets, including
a man who was photographed
while allegedly enjoying a ballgame with a ticket that had been seized.
Many of the tickets, after being scanned at the stadium, were stored as evidence at the police department's property room.
But the file is unclear as to how or when the police officers retrieved the used tickets in order to log them as evidence.
Mierzejewski also did not get statements from any of the cops at fault in the matter. Their statements are part of
a separate "administrative" file
that has not yet been opened to public scrutiny.
St. Louis Circuit Court Judge Phillip Heagney
will rule soon on whether the department must release the "administrative" file, which, according to court papers, is vastly more voluminous than the criminal file compiled by Mierzejewski.
Daily RFT
has been seeking access to the documents
since spring 2007
.