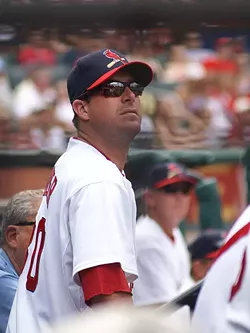 So it seems
Mark Mulder's
career has finally come to an end. He announced his retirement just-
What? He's not retiring? Oh. Huh. Well, then.
Okay, hmm. Let's see, how do we fix this?
Got it.
Mark Mulder has announced he's
maybe thinking about retirement
, except he really isn't. Except he sort of is, because his arm doesn't work. And he's a pitcher. But he's not retiring. He's going to make a comeback. Maybe.
Okay, let's see if we can make some actual sense of this.
Mark Mulder has announced he's not retiring
, but rather taking a step back from the game of baseball.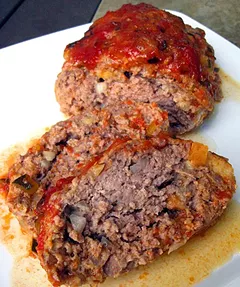 Mark Mulder's shoulder, pictured here in a file photo from 2007.
This, of course, may come as some surprise to those of us who didn't realise he had been near enough the game these last couple years to actually take a step back. I was under the impression two full seasons away from the game, and just seven appearances since 2006, constituted being fairly far away from the game. Turns out I was wrong.
So, any idea when that return might be, Mark? You feeling okay? What about the whole, "calling it a career," thing?
"I never said 'retirement.' That's the wrong word. The thing is, physically, I feel great, but my arm just doesn't work the way I want to work, so I just shut it down from throwing. But I never really said I was going to retire; I'm 32 and I don't feel like there's anything physically wrong with me."



Well that certainly sounds encouraging. He feels good, but his arm just doesn't work right. I have some bad news, Muldoo: unless you're planning on going all "
Princess Bride
" on us soon and revealing you're actually right-handed, I'm not sure how capable you are of being a big league pitcher if your arm doesn't work.
And really, we've all heard this same story before. All throughout his struggles to make a comeback here in St. Louis, all we heard was just how good Mulder felt. His shoulder felt great. He was finally healthy. His arm slot was back to where it was supposed to be. (Do any of you out there still have nightmares about turning on the FSN broadcast and hearing Dan and Al discussing the finer points of range of motion and arm slottitude for hours on end? I know I can't be the only one who still wakes up screaming.) Then, of course, he would take the mound, chuck a couple low- to mid-80s fastballs up there, and disappear for another three months.
Even when his arm was clearly toast, Mulder insisted he was in no pain. His arm didn't do what he wanted it to, but he felt good. No pain at all. Just no, you know, range of motion. Sound familiar?
I'm still rooting for Mulder, who was one of my very favourite pitchers back in what seems like forever ago now. But I just can't help but think one of these days Mulder is going to take another step back and go right over the edge of the cliff.