Camel Towing business card
Daily RFT
caught up yesterday with
Mike Christopher
as the 45-year-old entrepreneur from suburban St. Louis was headed to meet his attorney to discuss ways to trademark his new tow-truck company,
Camel Towing
.
Daily RFT
:
How did you come up with the name Camel Towing?
Christopher
: A buddy of mine from high school and I have been talking about this for ten years. Finally, we were sitting around drinking one night and I said, 'What the hell, I'm going to do it!' Now, in thirteen weeks, I've gone from not having a penny to my name to having one tow truck and now three trucks. I'm just a dumb ass who worked as a teamster truck driver for 25 years until I got hurt on the job three years ago. I don't know why other people haven't come up with this idea. They're just too ball-less to do it, I guess.
So it takes balls to be a Camel Tow?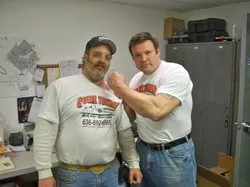 Camel Towing founder Mike Christopher with fan Tony Twist.
You got that right. People love it. We've got our own Facebook page. The other day I'm driving down the highway and this guy sees my truck and he whips a U-turn and follows me all the way to my shop. It's
Tony Twist
(former St. Louis Blues player). He shook my hand and said it was the greatest name he ever heard of.
Do you offer any discounts?
We already offer the cheapest rates in town -- $45 hookup fee and $3 a mile. But I'm thinking of running a promotion for ladies where I give them a ten percent discount if they show me their camel toe. But be careful ladies. If you've got a moose-knuckle, I charge a 25 percent surcharge.
Moose-knuckle?
That's a fat girl with a camel toe. No one wants to see that!
And you'll make the call?
My god, yes. The worst thing that could happen is I drive around town and have pretty ladies show me their cooch. What the hell? Hey, dude, I'm a sick fuck. I don't care. If you want to be a bear, be a grizzly. Fuck it. Go for it. We also offer another special.
Uhm, what's that?
Camel Towing: "We'll pull you out of a tight spot."
If you drink too much at the bar I'll come pick you and your car up and drive you home. I'll even take two of your friends -- cause the most I can have in my cab is four people. And I'll do that for $75 for up to 10 miles. Tell me, how come I'm the only dumb ass to come up with that idea? I offer this service with fourteen bars. They love me. I'm like
John Ratzenberger
(or
George Wendt
) when I walk into the bar. Instead of saying 'Norm!' they scream 'Camel Tow!'
I see online that there are several other towing companies in the nation that go by Camel Tow or a similar name. Are you a franchise. Or do you hoe the road all by your lonesome?
I'm on my own. I've got it incorporated in Missouri. But, yeah, there are four other states that have a Camel Towing or something like it. Way I see it, that leaves 45 other states I need to lock down.
The back of your business cards read: "We come lickety split." Are you talking towing here or something else?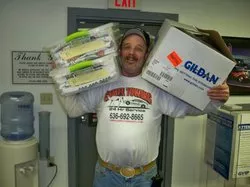 Absolutely. There are a million of them I could use. Call us if you're in a hairy situation, a tight jam, a pinch, a slippery spot. We'll pull you out. I could go on and on. Hell, I should have worked for Hallmark.
Can I have a photographer contact you for a photo?
Yeah, but I'd have to wash my truck first. It's filthy and no one wants to see a dirty Camel Tow. Tell you what, check out my website and Facebook. There are a ton of photos there. This is all about name recognition. Before now you might have had someone else in mind for towing. But now I guarantee you are going to think of Camel Tow next time you need a tow. You can't not think of Camel Tow!
Yeah. It's wedged into my subconscious.

Hear more of our conversation with Mike Christopher below.