I got admit, I chuckled at first when KSDK Channel 5
aired a segment Friday
on the dangers of falling televisions.
The station told the story of a local two-year-old injured in December when she pulled the family's traditional television down from its stand. Doctors treating the toddler at Cardinal Glennon tell KSDK that they treated fourteen children last year injured from falling televisions -- particularly flat-panel televisions.
As it turns out, a similar trend is playing out nationwide.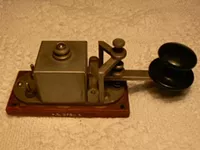 Across the country the number of children injured from falling furniture is on the rise, according to a
study released last spring
, with televisions most often cited as the culprit. Of the 17,000 children admitted to emergency room due to falling furniture in 2007, nearly half involved television-related injuries.
With the growing popularity of flat-panel televisions, the number of furniture injuries to children has risen 41 percent since 1990.
All of which is one more reason I choose the telegraph as my primary media source. No one has ever heard of a telegraph tapper hurting anyone.