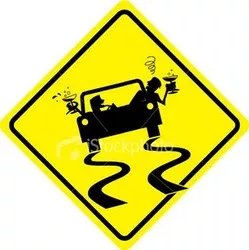 Soulard needs a new street sign
If you saw
our earlier post
today about the 92 arrests made by St. Louis' finest on the biggest drinking holiday of the year, you already know that a whopping 48 kids were cited for underage drinking on Saturday.
But with more than 100,000 adults (
a new record, according to Mardi Gras Inc.
) taking to the Soulard streets to get sloppy drunk, how many of the remaining arrests were for driving under the influence?
Go on, hazard a guess. Lower. Getting warmer....
Five.
How does that happen in a city and state, where drinking and driving caused
several horrific fatal accidents
last year, causing local officials to declare DWI enforcement a priority in 2010?
Katie O'Sullivan, a spokeswoman for the St. Louis Metropolitan Police Department, told the
Daily RFT
this morning that the arrests were made by a team of officers specifically assigned to "the Mardi Gras detail." They were working on a state grant and their "purpose was to look for impaired drivers."
So only five out of the 100,000 in attendance drove home drunk?
"You have to remember a large portion of people couldn't drive in Soulard because the streets were closed," O'Sullivan explained. "And the [Mardi Gras arrest] statistics are only up to 8:30 p.m. Saturday, so there may have been more later that night."
The bad news for the five DWI offenders is that the city recently ended the practice of "
pleading down
" on DWI arrest charges, meaning that their crimes will remain on their driving records as an alcohol-related offense. Mayor Slay even went so far as to remind St. Louisans of this new policy on
his Twitter feed
on the day of Mardi Gras.
There is, however a silver lining to all this. The number of 2010 DWI arrests was actually an improvement from last year. And how many drunk drivers did St. Louis' finest take off the road in 2009?
Four.