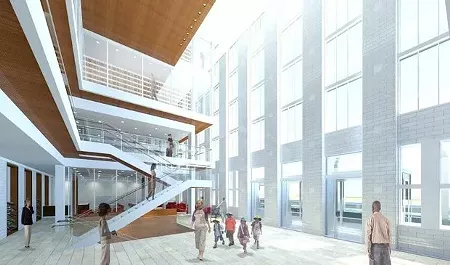 A rendering of the atrium proposed for the main library.
The St. Louis Public Library
announced yesterday
that Emerson has donated $4 million for the construction of an atrium for the library's downtown headquarters.
The donation from the St. Louis based electronics firm is the lead gift of a $20 million philanthropic effort to support the $74 million total restoration and revitalization of the main library, located on Olive and 13th streets.
The goal of the project is to convert the central library -- originally built in 1912 -- into a "vibrant downtown library center" by doubling the amount of space for public use, creating new children's and teen sections, adding a 250-seat lower-level auditorium and offering other amenities such as a café. (Think Barnes & Nobles on steroids.)
Construction is expected to begin later this year, with the grand re-opening slated for 2012, coinciding with Central's centennial celebration.
Commenting on the gift, Mayor Slay said:
"I applaud Emerson's phenomenal leadership towards this important downtown project. Emerson's $4 million gift demonstrates the company's strong commitment to the citizens of St. Louis and to the vitality of the entire region. Because Central Library is located within the heart of downtown, it serves as an important anchor for further commercial and residential development between Washington Avenue and Market Street. Along with our new City Garden, Central Library will provide a new downtown destination and venue. We've talked about this for years. Now Emerson has helped to make it possible."