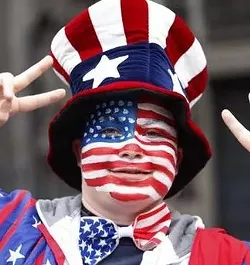 This week's clowns show their stripes.
With a
few exceptions
, ordinary folks in and around St. Louis refrained from outrageous acts of jackassery this week. Congratulations.
Wish we could say the same of our elected officials. When it comes to questionable behavior, Missouri and Illinois politicos this week were hellbent on outdoing each other. That's why we're pleased to present to you the first-ever, all-political edition of
Ass Clown of the Week
.
See the candidates and elect your favorite after the jump. 'Cause as you know: It's your
doodie
to vote for Ass Clown!
1.
Gary Nodler
: The state senator (R - Joplin) who this week threw his weight behind keeping non-closeted homosexuals out of the U.S. military because
he doesn't want to offend Muslims
in Afghanistan and elsewhere.
2.
Dick Gephardt
: The former Missouri Congressman re-emerged this week when it was revealed he's
now a lobbyist for an online gaming company
that paid him $300,000 for four months worth of work last year.
3.
Eric Schmitt
: The state senator (R - Glendale)
ground the General Assembly to a halt
this week when he brought up for debate two non-binding resolutions regarding federal policy out of his -- and the Missouri Senate's -- control. One of the resolutions -- debated for two hours -- would have the Missouri attorney general sue the federal government if heath care reform is enacted.
4.
Scott Cohen
: The man elected last week as the Democratic candidate for Illinois lieutenant governor
unceremoniously bowed out of the race
on Sunday over allegations he had once threatened his former live-in girlfriend -- a convicted prostitute -- with a knife.
5.
Matt Bartle
: Another state senator (R - Kansas City), Bartle is championing a
bill that would effectively drive Missouri strip clubs out of business
by banning nudity and alcohol sales. The bill received initial approval this week.