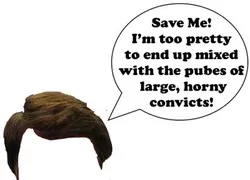 George Ryan's hair said the same thing
Rod Blogojevich
pleaded not guilty on Wednesday to revised charges that he attempted to sell President Obama's vacant Illinois senate seat to the highest bidder. Then he revealed his new strategy for winning his seemingly unwinnable corruption trial: make jurors listen to him talk until they fall asleep.
A blustery Blago vowed to take the stand in his own defense and told reporters that he's "not going to hide behind my lawyers, nor will I hide behind technicalities in the law."
He said that rather than attempt to block the FBI's wiretap recordings in which he was caught calling the senate seat "fu*king golden" from being played in court, he
wants
them to be heard -- all 500 hours of them.
"I'm not just going to talk the talk, I'm going to walk the walk," he told the
Associated Press
. "Play the tapes, play all the tapes."
Will the tactic work? Maybe in his dreams.
Blagojevich's trial is scheduled begin June 3. The Wednesday was necessary to allow the impeached Illinois governor to enter a new plea after prosecutors made a few technical charges to their corruption charges.
The
AP (via the Seattle Times) explained the changes
:
But prosecutors have been concerned about the previous indictment because many of the charges are based on a federal law that makes it illegal for public officials to deprive the taxpayers of their "intangible right to honest services." Critics say that the so-called honest services fraud law is vague.

Prosecutors have been concerned that the U.S. Supreme Court, which is currently reviewing the law, could erase if from the books or limit it to the point that it might not be useful in prosecuting Blagojevich.

The revised indictment, while not alleging any additional misconduct, adds eight charges that prosecutors believe will stand up in court even if the honest services law is thrown out.

The new indictment does not allege any misconduct that was not previously mentioned.