For God's sake, roll your shirtsleeves down you
Jersey Shore
goon. The
Missouri Arms Collectors Association
hosted its 68th
actual
gun show Feb. 5, 6 and 7 at the Heart of St. Charles Banquet Center.
Photo: Matt Blickenstaff
Alan Fasoldt (center) and father-son team Dominic Sr. (Left) and Dominic Jr. (Right) smile behind their collection of M1 Garands, ammo and war memorabilia.
But, beyond the absence of bicep flexing d-baggery, the term "gun show" is a little deceptive. Patrons didn't stare at prototypes through fogged glass cases. This was a tactile experience.
Guests grabbed guns from the racks, cycled actions and tested triggers. The show was a big swap meet where guns, parts and random paraphernalia could be bought, sold or traded. For six bucks, gun aficinados could wander aisle after aisle, looking for that perfect firearm or accessory to round out their collections.
The show featured vintage weapons (including a few flintlocks), newer models, knives, swords, stun guns, ammunition, memorabilia, parts, books -- and even one booth selling scented candles.
No show would be complete without a few forums for politicking. The Second Amendment advocacy group, Gateway Civil Liberties Alliance, took donations in exchange for bumper stickers and raffle tickets. The National Rifle Association set up a booth to take in new members. The Sons of Confederate Veterans were also there, spreading the message of Confederate pride.
And yes, what you heard from the Brady campaign is true. Individual sellers, who do not possess a federal firearms license, are not required to run background checks or maintain sales records. But, who says that's a bad thing?
In practical terms, without laws regulating the sale of firearms from one private citizen to another, closing the gun show loophole would do little to satisfy the nervous Nellie's.
nd while some of the spectacle might shock the liberal leaning (Nazi memorabilia, Confederate flags and tons of mean-looking guns), by and large, the show was good all-American fun -- a chance for gun enthusiasts to get together, chat, shop and swap.
Lots more photos on the next page...
Photo: Matt Blickenstaff
The Gateway Civil Liberties Alliance, a Second Amendment watchdog, was on hand with bumper stickers and a raffle.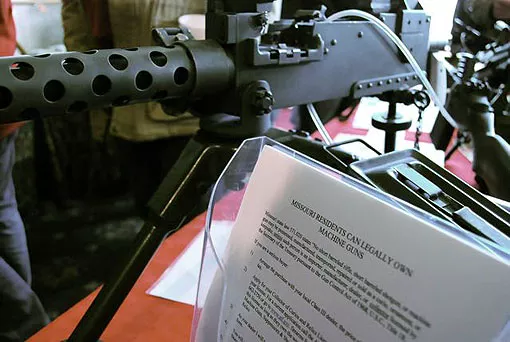 Photo: Matt Blickenstaff
A .30 caliber machine gun on display with a handy little fact sheet detailing how Missouri residents can get their hands on some fully automatic machinery.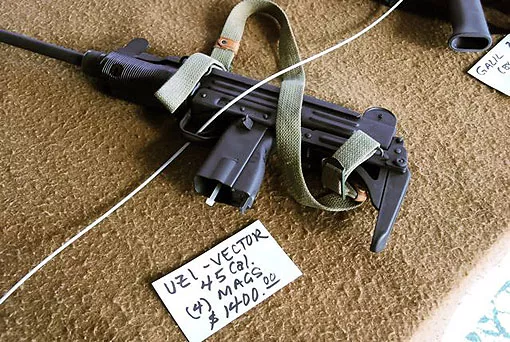 Photo: Matt Blickenstaff
One mean-looking Vector Arms semi-auto Uzi on sale for a hefty sum.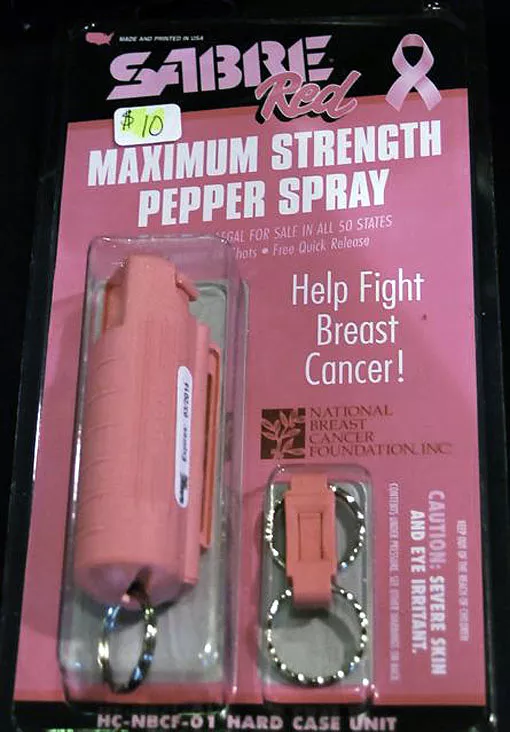 Photo: Matt Blickenstaff
The show featured some non-lethal items, even a few just for the ladies.
Photo: Matt Blickenstaff
Part show, part swap meet, all things military were up for grabs.
Photo: Matt Blickenstaff
Vintage ammunition, including these discontinued rounds from Kynoch, were available for purchase.
Photo: Matt Blickenstaff
War medals were sold from many sides of many wars.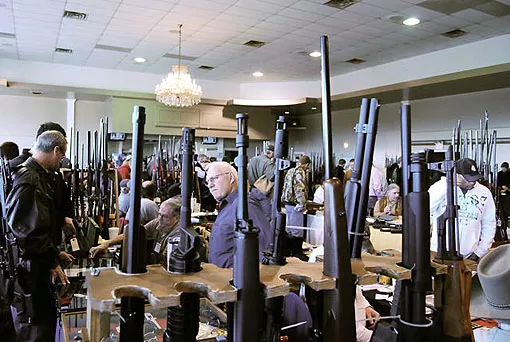 Photo: Matt Blickenstaff
The crowded showroom floor, filled with a forest of gun barrels.
Photo: Matt Blickenstaff
Knife-sharpening while you shop.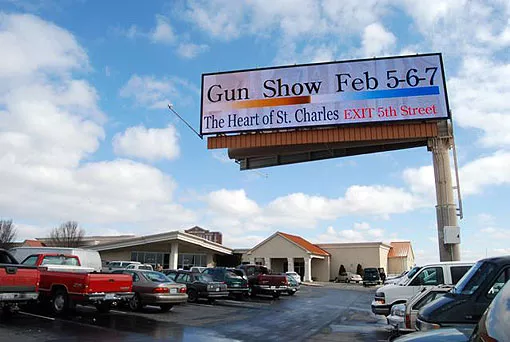 Photo: Matt Blickenstaff
Til next year... A roadside billboard advertises the show in front of the Heart of St. Charles Banquet Hall.