William Barger, alleged kidnapping ringleader
Two additional Missouri men have been charged with plotting the bizarre kidnapping last month of a New Jersey man who turned out to be the wrong intended target.
The case of mistaken identity prompted the sheriff in the southwestern Missouri town of Nevada (home to a couple of the suspects involved) to label the kidnappers
"bumbling idiots."
Now the nearby
Joplin Globe
provides new details to the hare-brained plot, which was hatched -- not surprisingly -- after several drinks at a local tavern.
According to the Joplin paper, a Nevada developer named
Roy Slates
was talking to kidnapping suspect
Douglas Stangeland
one night at a bar. During their conversation, Slates lamented losing $400,000 in a couple construction deals.
Stangeland took the information to
William Barger
,
a local tough who claims, falsely, to be the son of Hell's Angel founder Sonny Barger.
William Barger then came up with a plan to recoup Slates' losses, provided he got a 25 percent of the cut. One of Barger's plans was the Nov. 9 home invasion of another Missouri developer --
Charles Scammell
-- who'd allegedly lost some of Slates' money. The home invasion led to Scammell getting shot in the hand.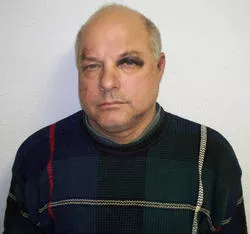 Two months later Slates allegedly fronted Barger $10,000 to kidnap yet another developer --
Jeffrey Muller
-- who'd cost him money. Barger then hired Stangeland and two other men to commit the kidnapping. Only, as it turned out, the Jeffrey Muller they nabbed from New Jersey (and who escaped his captors during a fuel stop while in route to southwestern Missouri) was the wrong man.
Charged in that kidnapping were Stangeland and
Andrew Wadel
and
Lonnie Swarnes
of High Hill.
Original "bumbling idiots": Stangeland, Wadel and Swarnes
Barger has now also been charged with eleven felonies involving home invasion and kidnapping. Slates, meanwhile, was charged last week with concealing a felony and hindering a prosecution.
Someone call the
Joel and Ethan Coen
. Me thinks we have the plot to brothers' next movie.