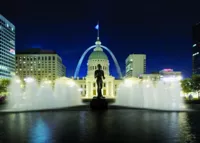 preservationnation.org
STizzLe be throwin' down in the online vote y'all
St. Louis is getting its a$s handed to it right now by
Marquette, Michigan
in an online poll going on between showcase cities.
Until the end of the month, a D.C.-based non-profit called
National Trust for Historic Preservation
is letting folks
vote
on which of a dozen finalist cities are the most "distinctive," which is defined here as having:
dynamic downtowns, cultural diversity, attractive architecture, cultural landscapes and a strong commitment to historic preservation, sustainability and revitalization.

As
things stand
, Marquette, Michigan is way out in front.
Here's the rest of our competition:
Bastrop, Texas
Cedar Falls, Iowa
Chestnut Hills, Pennsylvania
the Crooked Road, Virginia
Fort Collins, Colorado
Huntsville, Alabama
Provincetown, Massachusetts
Rockland, Maine
Simsbury, Connecticut
Sitka, Alaska
As in all important elections, you have to
register to vote
.