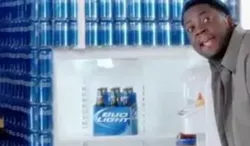 There's Bud Light in a fridge made of Bud Light!
I don't know about you, but none of the AB InBev's advertisements last night hit home with me. Then again, maybe it's because the last thing I'd ever want is a
house made of Bud Light cans
.
Still, as lame as they were, the beer maker's advertisements still managed to garner three of the top ten Super Bowl ads according to
USA Today
's annual
Ad Meter
.
Top billing at No. 3 went to the aforementioned Bud Light ad in which a guy builds a house out of beer cans. The No. 4 spot was a sappy piece in which a Budweiser
clydesdale befriends a longhorn steer
. No. 8 on the list was arguably the funniest AB ad of the evening in which
townspeople build a human bridge
to save a stranded Budweiser truck.
Prior to InBev acquiring the St. Louis-based Anheuser Busch at the beginning of 2009, Budweiser or Bud Light had earned the
No. 1 spot on the Ad Meter every year since 1999
. Last year, the brewer was beat out by Doritos. This year the top ad went to Snickers.