If you haven't checked out the RFT Flickr Pool lately you should do so immediately. Go on,
click this link
. We promise you won't get
RickRoll'd
.
Looking for nightlife snapshots? Concert photos?
Street art
chronicles?
Action
from local sporting events? Completely random portraits of a club-toting wooden statue gallivanting around St. Louis a la
the gnome in Amélie
? Yup, check it out:
photo by jamjessop via Flickr
Terrorists beware: There's a new sheriff on the Arch grounds.
There's a whole series of these strangely awesome photos (viewable after the jump) taken by Flickr user
Jamjessop
and uploaded last month.
A few other highlights from the set:
In front of the flooded Mississippi River
Protector! and the Old Courthouse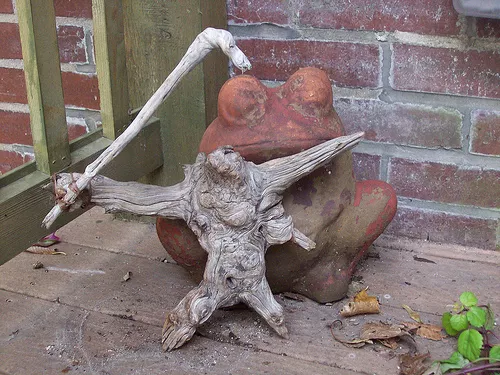 The frog sleeps soundly at night.
See the whole set and/or upload your own photos by
clicking here
.