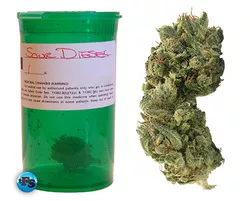 Group wants state senators to support Sour Diesel
Next Wednesday, February 10, members of the group
Sensible Missouri
-- self-described as "patients having a diagnosis that could be ameliorated through the use of cannabis" -- will travel to Jefferson City and lobby state leaders to support a new bill legalizing medical marijuana in the Show-Me State.
The bill,
HB 1670
, was introduced last month by
Kate Meiners
, a Democrat from Kansas City. It would permit physians to prescribe "an adequate supply" -- defined in the law as up to three mature plants and an ounce of dried buds -- to patients diagnosed with "debilitating medical conditions."
According to the group's
event page
on Facebook, there are plans to meet with Meiners, several of the bills co-sponsors and their own state senators.
As for
Ron Richard
, the Republican House Speaker, who
helped kill
the last few prescription pot bills in committee --well, don't expect him to be passing the peace pipe with the activists any time soon...
Writes Sensible MO's
Mark Pederson
:
We have asked for a meeting with Speaker Ron Richards [sic] and were told "gosh, he is awful busy and couldn't possibly...but you can stop in when you are here and maybe somebody, one of his aides or something, can talk to you." We will.

The trip to the capitol is not restricted to Sensible Missouri members. They do ask that anyone who attends be eligible for medical marijuana if the law is passed. More info is available by
clicking here
.